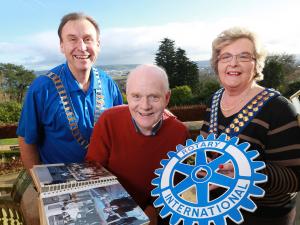 (L-R) District Governor Rotary Ireland Garth Arnold; Polio survivor Eddie McCrory; President of Rotary Belfast Rosemary Simpson
By Simon Hunter
It's 60 years since the outbreak of polio in Northern Ireland.
The Belfast epidemic was the biggest in the country, and one of the last, just as a vaccine was becoming available.
The Rotary club of Belfast, together with those from around the world, has been working to support the eradication of the disease, with a focus on advocacy, fundraising, volunteer recruitment and awareness building.
297 contracted it in the city in 1957, including 5 year-old Eddie McCrory.
He and Rotary Belfast President Rosemary Simpson are encouraging survivors to come to a special event at Belfast Castle on the morning of Tuesday 5 December, co-hosted by the 'One Last Push Campaign.'
They spoke to Q Radio's Simon Hunter to tell their stories, and the story of the fight, as polio nears extinction across the globe.
To tell your story – and to register your interest in the event, you can call 0207 544 3602 or email campaign@onelastpush.org. You can also show your support by visiting http://uk.onelastpush.org/ and clicking 'join now'. To donate to Rotary and help end polio, visit www.endpolionow.org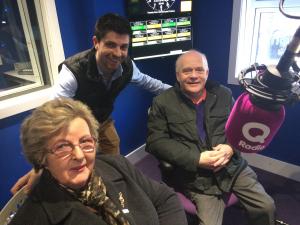 Rosemary Simpson & Eddie McCrory with Simon Hunter