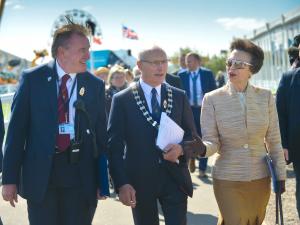 Princess Anne strolls with RUAS officials at Balmoral Show
Q Radio News
Princess Anne is visiting the 150th Balmoral Show near Lisburn.
Northern Ireland's largest agri-food event is back for the next four days and organisers say it's bigger than ever.
More than 115,000 people are expected to attend over the four-day event which showcases livestock and the latest farming machinery.
There's also hundreds of stands surrounding the Eikon Centre displaying arts, crafts, food and toys.
Princess Anne is among the thousands of visitors to the first day of the 150th #BalmoralShow18. 115,000 are expected at the Maze site over the next four days. (?Aaron McCracken) pic.twitter.com/KP8zXXvs3H

— Q Radio News (@qnewsdesk) May 16, 2018
Ever seen a milking machine in action? Demonstration at #Balmoralshow18 pic.twitter.com/a7QnUgYYvQ
— Q Radio News (@qnewsdesk) May 16, 2018
Here's Rhonda Geary from the Royal Ulster Agricultural Society...
As always, threre's something for everyone...
The big anniversary will be marked in style...
Lots of preparation goes into making the #Balmoralshow18 work. The Limousins are being made ready for the judges! pic.twitter.com/l5n3KIYpxk

— Q Radio News (@qnewsdesk) May 16, 2018
Balmoral Show has proven increasingly popular in recent years and people are being reminded to leave extra time for their journeys.
Motorists often experience major delays getting in and out of the site, so additional public transport to and from the centre has been provided.
PSNI District Commander, Supt. Sean Wright said, "Of course, we are delighted to see theBalmoral Show back again this year. This is an excellent day out for everyone and I want everyone to enjoy a positive experience.
"Please help us to help you by being patient and by driving and parking responsibly and with regard to other road users. I encourage everyone to use public transport wherever possible or park only in the designated locations if you have to bring a vehicle.

"Public safety is of paramount importance to us so anyone parked illegally could get a fixed penalty notice for ignoring parking restrictions. These restrictions will be obvious so please do not ignore them."
650 trade stands are involved at this year's event on the Maze site outside Lisburn, with additional displays and showcases throughout.
Those enjoying the Show on Saturday, need not miss out on the other big Royal event!
115,000+ people due at 150th @balmoralshow - but stars arrive early...More from Rhonda Geary & co am #BalmoralShow18 pic.twitter.com/zMamm0aPCa

— Q Radio News (@qnewsdesk) May 15, 2018
-