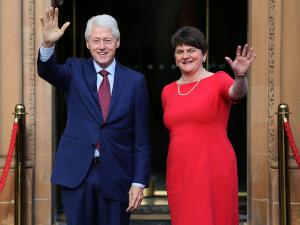 By PA reporter
Former US president Bill Clinton has urged Northern Ireland's political leaders to use the anniversary of the Good Friday peace agreement as a stimulus to save powersharing.
The US statesman described the signing of the accord in 1998 was one of the happiest days of his presidency as he hailed the courage of everyone who made it possible.
In a video message broadcast to a commemoration event in Washington DC, Mr Clinton acknowledged that, 20 years on, there was work to be done to salvage the institutions which the agreement created.
"We know the progress that has been made has been imperilled by the consequences of recent events and the uncertainties of the Brexit vote," he said.
"We also know in our heart of hearts that none of these problems is an excuse not to save, strengthen and build on the peace.
"This anniversary gives us all an opportunity to recommit to the spirit of courage and co-operation that made the Good Friday agreement possible in the first place."
A number of Northern Ireland politicians attended the event, as did the former senator who brokered the deal 20 years ago, George Mitchell.
As Mr Clinton implored today's generation of political leaders to "seize the moment" and "move into the future together", he joked: "You might even want to ask Senator Mitchell to open a new round of negotiations."