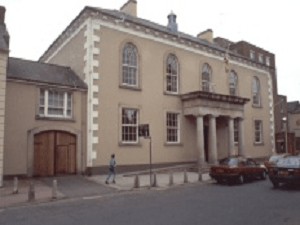 By Adam Evans
A farmer from Fermanagh has been ordered to pay more than 2,600 pounds after hundreds of fish died in the Ballycassidy / Irvinestown River.
Victor Armstrong from Ardlougher Road in Irvinestown was convicted of letting slurry enter a waterway and given a conditional discharge.
It affected around 10 kilometres of the river.
A spokesperson for the Department of Agriculture, Environment and Rural Affairs said: "On 5 May 2016, Water Quality Inspectors (WQIs) acting on behalf of the Northern Ireland Environment Agency (NIEA), responded to a report of pig slurry in the Ballycassidy/Irvinestown River.
"The Inspectors proceeded to a farmyard and discovered that slurry had been flowing over the yard and into the waterway from the direction of a slurry reception tank. In accordance with procedures, the Inspector collected a statutory sample of the slurry as it made its way to the waterway via a black pipe.
"The next day inspectors responded to a further report that the river was grey in colour and smelled strongly of pig slurry. They noticed a number of brown trout distressed and dying as the plume flowed downstream. Colleagues from DAERA Inland Fisheries walked from Drumgarrow Bridge to the confluence with the Ballycassidy River and counted 183 dead brown Trout, 35 Roach and two Pike. The waterway was impacted for a distance of 10 kilometres.
"A sample taken at the time of the incident confirmed that the discharge contained poisonous, noxious or polluting matter which was potentially harmful to fish life in the receiving waterway.
"Anyone wishing to report a pollution incident can call the 24 hour Water Pollution Hotline on 0800 80 70 60."