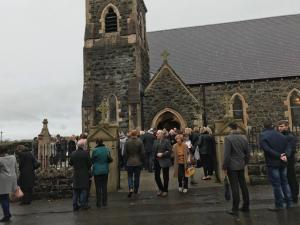 Mourners outside St. Joseph's church in Glenavy
By Q Radio news
The victim of a suspected hit and run in Liverpool, has been laid to rest beside his older brother.
Matthew Bradley from Glenavy in county Antrim, was on a stag night in the city when he was struck by a BMW at the start of the month.
The talented landscape gardener was described as a gentle giant who had a real love for life.
Father Colm McBride led the service at St.Joseph's church in Glenavy.
He says Matthew's family have been touched by the amount of support they've received over the past few days.