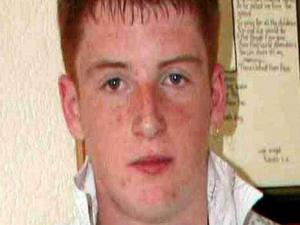 By PA reporter
The grieving mum of murdered teenager Michael 'Mickey bo' McIveen slapped his killer in the face after she heard him exclaim "f*** her son", a court heard today (tues).

Antrim Magistrates Court also heard that 46-year-old Gina McIveen tried to hit Mervyn Moon again after bumping into him in the street but that the self-confessed killer ran off.

Mother-of-four Ms McIlveen, from Glendun Drive in Ballymena, pleaded guilty to a single charge of common assault on Moon on 14 August last year.

In a shocking and horrifying sectarian attack, 15-year-old schoolboy Michael McIlveen was kicked and beaten with a baseball
bat in an alleyway after being chased by a gang in his hometown in May 2006.

The teenager, known to his friends and family as 'Micky Bo', died later from brain injuries inflicted during the assault.

Moon, who pleaded guilty to murder and is from Douglas Terrace in Ballymena, was jailed for a minimum 10 years after the
prosecution outlined how the schoolboy died "solely as a consequence of the blows issued by Mervyn Moon with the baseball
bat."

In court today (tues) a prosecution lawyer outlined how Moon was on Antrim Main Street when Ms McIlveen "hit him on the left side of the head causing a cut to his left eye."

"She attempted to hit him a second time but he ran off," said the lawyer adding that Ms McIveen shouted after him "you murdering b******, you killed my son."

Arrested and interviewed the grieving Mum made "full admissions" to the incident, telling cops "he looked into my eyes and I f****** hit him, that's it."

Defence barrister Conor O'Kane submitted that had it not been for her confessions, Ms McIlveen would not be in the dock as Moon had withdrawn his statement because "he doesn't want to cause her any more grief."

Given that stance, said the lawyer, the only account of the incident formally before the court, was that of Ms McIveen who recounted that having dropped her daughter Francine off and parked the car, the mother and daughter were going shopping when they came across Moon by coincidence.

"Every single one of the other defendants were and are still excluded from Antrim so she never imagined that a person who murdered her son would be in Antrim," said Mr O'Kane so seeing him "came as a great shock."

He told the court that both Ms McIlveen and her daughter heard Moon "laughing on his mobile phone and of huge significance he says, ostensibly to the other person on the other end of the phone, 'f*** her son, f*** her son'."

"Clearly she took that as a reference to her son who this man murdered," said Mr O'Kane, adding that when Ms McIlveen demanded to know what he said, "he laughed."

The lawyer conceded Ms McIlveen "completely saw a red mist" and slapped him with her right hand in which she was holding her car keys but he submitted that "this could not have been a more extreme example of provocation," declaring that "this man murdered her child and taunted her seconds before she slapped him on the face."

He added that while it was not usually his practice to ask for a specific penalty for a defendant, "if this isn't a case for an absolute discharge I don't know what is...effectively since her son was murdered her life has been ruined."

District Judge Peter King told Ms McIlveen that everyone involved in the law and legal circles in NI "is clearly well aware of the tragedy that befell you and your family."

"You don't need me to tell you that you have our utmost sympathy for the tragedy," said the judge but he added that it was "hugely regrettable that almost 12 years later we are dealing with the fall out from that event."

He said given the fact that "we now have an injured party who wants nothing to do with the case," if Ms McIlveen has not been so "forthright" with the police the case would not have got off the ground.

Despite Mr O'Kane suggestion, Judge King said he did not think an absolute discharge was appropriate but neither was imposing a fine or compensation.

"I will however impose a conditional discharge for three months and hopefully, that will conclude any dealings you have with Mr Moon.

"I can only hope this brings closure to something that should have been put to bed years ago," said Judge King.

Outside the court, Ms McIlveen declined to comment.