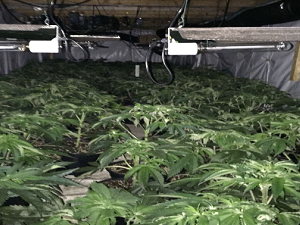 By David Hunter
Three people are due before Ards Magistrates court on Thursday after a £600,000 cannabis factory was found in Castlereagh.
A 35 year old woman and 40 year old man are charged with drug offences and assisting unlawful immigration.
A 22-year-old man also faces immigration and drug offences following the discovery on Gransha Road on Tuesday.
2 firearms and £5,000 in cash were found in follow-up raids in Dromore, Belfast and Lisburn.
A 60 year old man and 61 year old woman who were arrested in South Belfast have been released on police bail.
Following the discovery of the drugs Detective Inspector Pete Mullan said: " Drugs are a blight on our society and cause damage not only to users but to their families and communities.
DI Mullan continued :"Cannabis is the most widely used illegal drug and the most seized illegal drug in Northern Ireland with 90% of the drug market being casual users.
"Last week we launched our 'Think Before You Buy' initiative to help make people aware that casual drug use also feeds into the coffers of the organised criminal gangs that supply illegal drugs and who use violence and intimidation to strike fear through the heart of our communities.
"We want people to consider when they hand over their money to a drug dealer, where that money goes and what it's used for; that it's not being invested for the good of the community. "