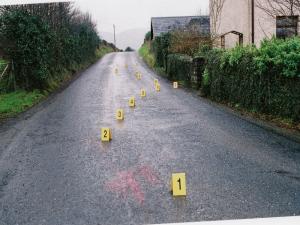 Q Newsdesk
"It's a fact that elements of Eamon Collins' life have been highly publicised in the media and other public records. However, that past was behind him and he himself had publicly rejected violence and turned away from those involved in such violence. At the time of his brutal murder, Eamon was simply a devoted husband and a loving father. The killers left in their destructive wake a grieving widow and four fatherless children.
"Detectives will be following a number of lines of enquiry in the weeks ahead and those responsible should expect police attention. A full DNA profile has been recovered from the crime scene. We believe this DNA profile was left by one of the killer gang. With the advances in DNA technology, I believe we are close to identifying this person.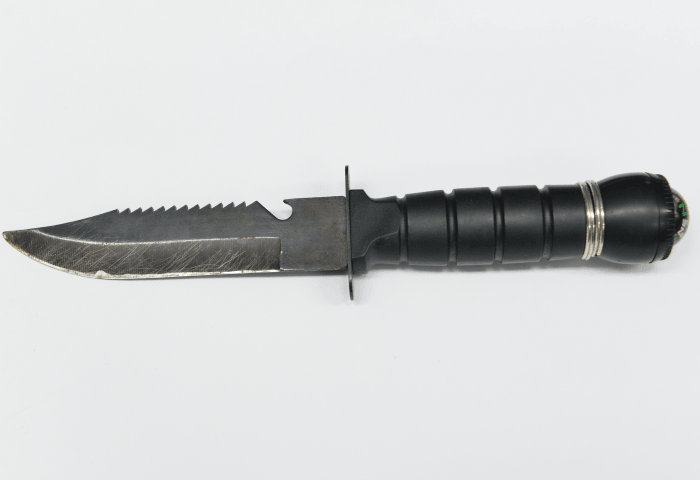 ( PSNI, Photograph of hunting knife similar to one used by killers)
"However, police are always reliant on information from the public to help us solve such crimes. In this instance, the DNA profile was extracted from blood left at the scene. Forensic analysis of the blood tells us that the person who left it was male, and that he himself suffered a severe injury during this frenzied attack. There will be people in the community, whether in the Newry area or south of the border or anywhere else, who are aware of an acquaintance, a relative, a neighbour suffering such an unexplained wound. It may stand out in their minds as having occurred on the same day that they heard about Eamon Collins' murder. This is information that we need people to tell us.

"20 years have now passed since this merciless killing. I ask those who were involved, or heard accounts of what happened, either in the immediate aftermath or indeed over the years, to think about the devastating effect this has had on Eamon's family, and to come forward to the police.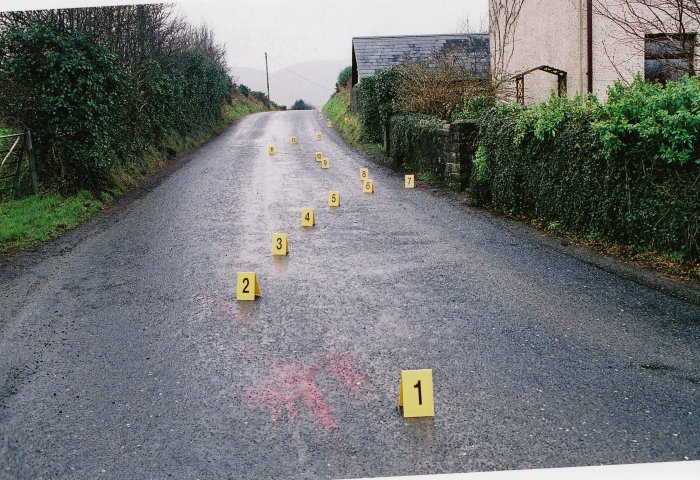 (PSNI, Photograph of murder scene on Dorans Hill)
"A number of people were involved in Eamon's murder. They know who they are and they are going to have to live with that for the rest of their lives. While they are not before the courts today, police will continue the investigation with the objective of putting them there. I would appeal to them to do the right thing and make a difference to Eamon's family by making themselves known."