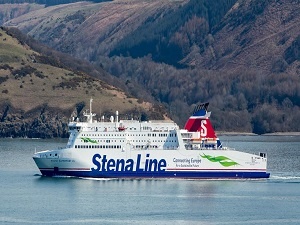 Stena Superfast VIII with new livery
By Adam Evans
Shipbuilders in Belfast have completed £5m upgrades to Stena Line's Irish Sea North ferry fleet.
It took four months and more than 150 contracters to finish the work on a dry dock at the Harland & Wolff shipyard.
Paul Grant, Stena Line's Trade Director (Irish Sea North) said the upgrades will help ensure "vessels operate as safely and efficiently as possible".
Adding, "what is particularly striking about this year's refit is that the Stena Line fleet now carries our new company strapline emblazoned on the side of our ships... Connecting Europe for a Sustainable Future... which demonstrates our future sustainability ambitions".