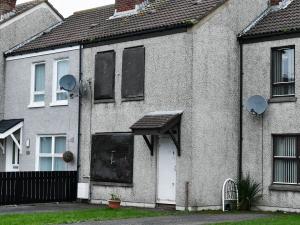 A house damaged after the attack in Newtownards
by Q News Desk
A baby narrowly escaped injury after paramilitaries threw bricks through a house in Newtownards last night, the PSNI has said.
It was one of several homes in the district to come under attack from people who police believe belong to the South-East Antrim UDA.
Other young children also avoided being hurt in the property while cars in the area were also damaged.
In a Facebook post, the Ards branch of the PSNI said: "Our enquiries lead us to believe that members of Newtownards based South East Antrim UDA were responsible for these attacks. They may well give their own warped explanation of why these attacks take place but I'm not sure what they achieve by terrorising children and babies in the sanctuary of their own home.
"These criminals skulk about in the hours of darkness terrorising local communities under the banner of South East Antrim UDA – they do this to control communities not help them. You can do your piece to fight back by calling Crimestoppers or by getting in touch via 101 or private message with any information you have.
"Only by the community speaking out against these criminals will you help the fight against them.
"Paramilitaries don't protect you – they control you."