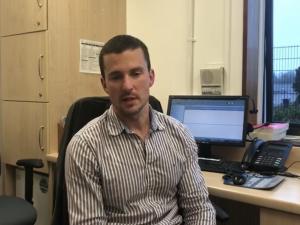 Q Radio news
A Bangor based GP has spoken out about the health crisis in Northern Ireland saying staff are under severe pressure, and are having to work in facilities which have been described as "unfit for purpose".
'Dr Drew and Partners' serves 5 thousand patients from Bangor Health Centre, but has only two consultation rooms.
The three doctors, along with two pharmacists, have also been forced to share one office at the site due to a lack of space.
It's also prevented them from hiring a full-time nurse, saying they have temporary use of a nurse from another practise.
"We borrow a nurse from another practise, but we need to 'hot desk' it essentially. So, for example, she'll work from my desk at lunchtime. It's very hard to manage.
"Earlier this week she had to work from a room with no computer, so we had to work from paper, which just didn't really work" said Dr. Luke Chapman.
It comes at a time of high concern for health care workers in Northern Ireland. Several nursing and health worker's unions have voted to go on strike in recent weeks.
The Royal College of GPs has issued a stark assessment of where staffing levels could be in just five years' time. It's also warning of the difficulty in recruiting and retaining GP services in rural areas.
Troubling times for Northern Ireland's healthcare system. We hear from Dr.Luke Chapman, who says his GP office isn't fit for purpose. 5,000 patients, 3 GPs, and only 2 consultation rooms - Full story: https://t.co/Jt56bq9M4l pic.twitter.com/5fS9QCqgeG

— Q Radio News (@qnewsdesk) November 21, 2019
Dr.Chapman said: "It's just not fit for purpose. Our practise manager's office is in essentially a cupboard with no windows, which isn't really even meant to have personnel in it.
"It's awful for morale, but our main concern is that it's detrimental to the service we provide for our patients. That's an inability to provide enough face to face appointments, at a time when our workload is getting worse."
When asked how bad the situation is in the health sector, Dr Chapman explained "Worst case scenario is we start losing staff, either admin or GPs.
"Our senior partner retired recently and I know others are considering early retirement just because of this type of pressure. Again, it always comes back to our concern about care for our patients."
In response to the situation in Bangor, a spokesperson for the Southern Eastern Health Trust issued a statement to Q Radio news.
It reads: "We are working to facilitate the expansion of the GP practice in Bangor Health Centre. To create more space for GPs, we have agreed to move some Trust health staff out of the Centre.
"We have now identified those staff and identified another location for them to move to, but it requires considerable renovation and is currently at the design stage.
"We now have to appoint a contractor and it is unlikely to be ready for occupation for another 6 months. The Trust is doing everything possible to speed up the project."