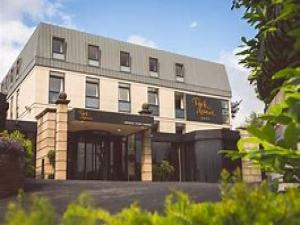 Park Avenue Hotel Belfast
By Q radio news
Hospitality firm Beannchor Group is laying off up to 800 staff and temporarily closing most of its portfolio of bars and hotels.
The Dirty Onion and Yard Bird, The National, sixty6, Bullitt Belfast, The Ulster Sports Club and the Park Avenue Hotel will close with immediate effect.
The Group's flagship hotel, the Merchant Hotel will remain open, with a significantly scaled back offering to ensure adherence to current health and safety guidance in relation to social distancing due to Covid-19.
Little Wing Pizzeria's nine restaurants across Northern Ireland will remain open, with increased social distancing protocols in place and an enhanced takeaway operation being introduced. The Hillside in Hillsborough will also remain open, with additional social distancing measures in place.
All venues that will remain open are practicing the very highest health, safety and hygiene standards, which have been rigorously reviewed in light of the Covid-19 outbreak.
Beannchor Managing Director, Bill Wolsey said: "Never in forty three years of business have I seen a crisis like this one, nor faced a decision like this. This has been an emotional and extremely tough decision but if we do not act now, we will not have a business to return to. We have made this decision because we feel we have to act responsibly in the best longer term interests of the group and its staff.
"We waited for as long as we could to see what support might be available from the government but the so called 'support package' announced by the Prime Minister and Chancellor this evening is absolutely no support at all. They are offering loans, which will only serve to build up more debt and they are providing absolutely no support to our staff, which is our key priority. Meanwhile, other countries in Europe are rallying to help businesses and staff in their vital industries to weather this storm. It's absolutely abysmal.
"This is a terrible blow for our people who have made this group the success story it has become and we will be doing all that we can to support them in the coming weeks."
Meanwhile Newry firm MJM Marine announced it's to shed hundreds of jobs.
In a statement the company said:
"Today MJM Marine has communicated to our valued employees the first stage of a consultation process which will result in redundancies. Despite taking the highest level of precautions, decisions late last week across the world led to all but one of our drydock projects being postponed indefinitely due to Covid- 19.
"This is not something we ever expected to have to do but unfortunately with the situation in the cruise sector we have been left with no alternative. Our thoughts and concerns are with all those who have been impacted by Covid -19 and with those at the front line of dealing with it. Our priority is the continued health and safety of our people; and our clients and suppliers who are all being impacted."