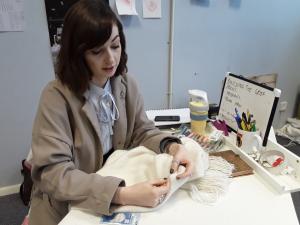 Q Newsdesk
A Belfast artist is remembering those who've taken their own in life in Northern Ireland since the end of the Troubles.
Ro Owens will stitch 600 pieces of thread onto 50 metres of white cotton to represent some of those who've died.
More than 4,500 people have taken their own life since the Good Friday Agreement was signed.
That's more than died during the conflict.
Ro hopes her work will help raise awareness:

She'll start working on the fabric tomorrow at the Framewerk Gallery in Belfast:
Belfast artist Ro Owens will begin working on a new piece tomorrow to raise awareness of Northern Ireland's suicide rates. She'll stitch 600 pieces of thread onto 50m of white cotton to represent some of the lives lost since the Troubles: pic.twitter.com/EyBSUrPlI5

— Q Radio News (@qnewsdesk) 13 January 2019