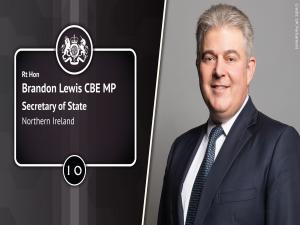 By Q Radio News and PA
Boris Johnson has hired and fired ministers as part of a reshuffle of his government following his general election victory last year.
His plans were altered by the shock resignation of Sajid Javid as chancellor, who quit after refusing to sack his aides in a stunning row with the prime minister.
It means the changes to the government are much more significant than the moderate shake-up of ministerial ranks that had previously been expected.
Brandon Lewis, the former Tory party chairman is given the challenging cabinet role of SOS for Northern Ireland after the sacking of Julian Smith.
He has previously held a number of ministerial roles, in areas including security, immigration and policing.
Allies of Mr Smith told the PA news agency they were shocked at the decision to dismiss him from the Cabinet.
Taoiseach Leo Varadkar hailed Mr Smith as "one of Britain's finest politicians of our time".
The move to axe Mr Smith came as Prime Minister Boris Johnson carried out a reshuffle of his top team.
Downing Street reportedly felt left out of the loop over the terms of the deal Mr Smith was negotiating last month, which eventually led to the Assembly functioning again after a three-year suspension.
There are concerns in Tory circles that the agreement includes an investigation into alleged crimes by British soldiers during the Troubles.
But those close to Mr Smith insisted that Number 10 and the Prime Minister had been kept fully informed about the terms of the Stormont arrangement.
"There was a write-round of Cabinet ministers," a source said, pointing out that Mr Smith travelled back from Belfast on January 6 to personally brief Mr Johnson.
There had been a series of memos sent back and forth between Mr Smith's team and Number 10 and it was "absolute rubbish" to suggest they had been blindsided.
It's now all eyes on Brandon Lewis to see what he can bring to the role.