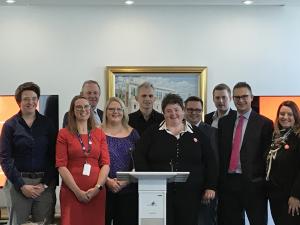 By Simon Hunter
Business leaders say the denial of same-sex marriage in Northern Ireland will affect the economy.
A number of multinational companies have signed an open letter calling for its introduction here.
Employers gathered in Belfast this morning to show support for LGBT rights.
Director of The Rainbow Project John O'Doherty spoke to Q Radio.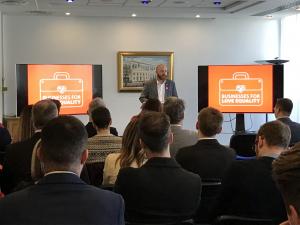 Denise Hart is head of LGBT network 'GLEE' at PwC.
Petre Sandru, Country Manager of Coca-Cola Ireland, said:
"As one of the world's most inclusive brands, Coca-Cola celebrates diversity, inclusion and equality.
This commitment not only manifests itself in our advertisements, but also in our daily operations.
At Coca-Cola, we know that creating an environment where everyone can reach their full potential, regardless of gender, age, sexual orientation, ethnicity, religion, ability or socio-economic background, is key to driving businesses forward.
We also believe that everyone has the right to be themselves both outside and inside the workplace, which is why we support this important initiative."
.@TRPNI Director John O'Doherty's told @qnewsdesk legalising same-sex marriage in Northern Ireland is crucial not just for upholding human rights, but also for having a strong economy. Business leaders and employers gathered in Belfast this morning to show their support. pic.twitter.com/umxd5djMdg

— Simon Hunter (@simezsez) September 11, 2018