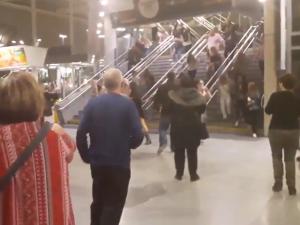 Councillor Trevor Wilson has been speaking with the victim's family
By Q radio news
The father of a County Tyrone man injured in the Manchester bombing has paid tributes to the emergency services.
Tommy McCallum who's originally from Cookstown was rushed to hospital with shrapnel wounds after he was injured in Monday night's terrorist attack.
Q radio understands the man in his forties was collecting his step daughter from the arena building when the bomb detonated in the foyer.
He is believed to have sustained shrapnel wounds to his stomach but has been talking to hospital staff after undergoing surgery.
His father Thomas McCallum senior has thanked medics who helped his son.
Mr.McCallum Snr told QRadio news: "You don't expect it to happen to your son. Especially coming from here, he travelled the country here to X,Y and Z and nothing ever happened to him."
Praising the emergency services in Manchester he continued "The medics could not be faulted.
"When you realise the extent of his injuries the surgeon's have been tremendous, really tremendous.
"We've been very, very impressed."
Trevor Wilson who's Chairman of Mid-Ulster council, has been visiting Tommy's parents in Cookstown and said the news came as a total shock to the family.
(Council Chairman Trevor Wilson met the victim's family earlier)
"The family have told me that he has gone through an operation and he has shrapnel wounds but hopefully he is on the road to recovery.
The family is obviously very anxious and has appealed for some privacy at this time.
"They have been taken back by the support of local people who have rallied around and offered their thoughts and prayers but equally they want privacy."