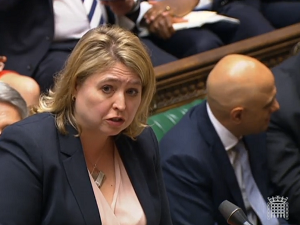 By Adam Evans
People affected by the Troubles now have more time to get a say on proposals to deal with the past.
The Secretary of State has extended the Legacy consultation deadline by three weeks after she faced calls to do so.
Karen Bradley says people who want to respond have until Friday 5th October.
The Northern Ireland Secretary said: "The legacy of the Troubles in Northern Ireland is an enormously sensitive and emotive issue, and I want to make sure everyone's voice is heard as we move forward.
"I have listened to those who want to take a little bit more time to consider their responses - particularly those individuals who have been most affected by the Troubles, including victims and survivors and former police officers and veterans - and I am happy to extend the deadline so that they can have their say.
"The UK Government launched the consultation, Addressing the Legacy of Northern Ireland's Past, on 11 May to find the best way to meet the needs of victims and survivors and to help people address the impact of the Troubles in the areas of information, justice and acknowledgement and help Northern Ireland transition to long term-term peace and stability.
"The original deadline for responses was 10 September, extended today to 5 October. Anyone who wishes to give their views can find more information at https://www.gov.uk/government/consultations/addressing-the-legacy-of-northern-irelands-past".