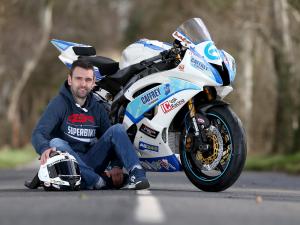 William Dunlop tragically died in July last year
by Stewart Robson
The late William Dunlop, who died in a bike accident last year, will be inducted into the Irish motorcycling hall of fame six months on from his death.
William crashed during a practice round of the Skerries 100. He was 32-years-old.
The biker will join his father Robert and uncle Joey on the prestigious list. Both men also died while racing.
His heartbroken partner Janine and his mother Louise will accept the award on William's behalf.
"We are still in complete shock after the tragic incident last summer, but any award the Dunlop family has ever received has been very special," said Louise.
"With this award, it's just lovely to know the Dunlop name is still a force to be reckoned with, but it will be an emotional evening.
The accolade will be presented to his family at the Crowne Plaza Hotel in Belfast next Friday.
Dunlop won 108 Irish National Road Race wins during his career which started when he was only 15. Wins included victories at Ulster Grand Prix and North West 200 races.
His mother added her thanks everyone for their continued support.
"We have been overwhelmed with the amount of love and kindness we have received she said.
"It truly has been remarkable. William was loved by everyone, and we are so proud of his achievements, as we are of all my boys."
The Irish Motorcyclist of the Year award will also be presented at the event.