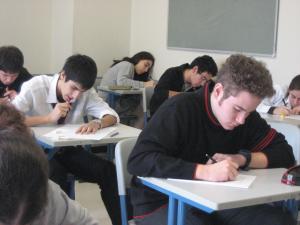 By Rebecca Black, PA
Northern Ireland's examinations body "adopted a professional approach" to the "unprecedented task" of producing grades for GCSE and A-levels last summer, a report has found.
The Council for the Curriculum, Examinations and Assessment (CCEA) was tasked with finding an alternative system for awarding grades after exams were cancelled due to the coronavirus pandemic.
Students were instead assessed by an algorithm which included predicted grades.
However, there was an outcry from many schools, pupils and parents when the statistical algorithm used to standardise results reduced more than a third of A-level grades predicted by teachers.
After days of controversy, Education Minister Peter Weir scrapped the standardisation model and announced that pupils would be able to receive the grades predicted by teachers, even though it saw results averages soar.
Plans to apply standardisation to GCSE results were also binned.
An independent report by Deloitte has now found that CCEA and the Department of Education "adopted a professional approach to the unprecedented task at hand".
It noted that finding the balance of maintaining standards and arriving at grade outcomes accepted as fair by all was "extremely difficult".
"The onset of the Covid-19 pandemic presented a set of circumstances which left CCEA and the Minister/Department with the prospect of having to adopt a 'least worst' approach to awarding," the report says.
The report said more mitigation measures could have been implemented in terms of design, implementation, management and communication.
However, it noted "it is still not clear that further intervention would have avoided the situation that prevailed following the 13th August".
"More could have been done to manage expectations… however we do accept the balance of avoiding potential conflicts of interests from centres being involved in detailed model design whilst at the same time securing their buy-in was difficult," the report says.
It recommended earlier and more regular engagement with stakeholders, but acknowledged given the time available, CCEA carried out constructive dialogue with key stakeholders.
The report also noted that the review of the events of summer 2020 provides "a useful context for moving into 2021".
All GCSE, AS and A-level exams have again been cancelled this year amid the continuing coronavirus pandemic.
How grades will be awarded has yet to be announced.
Mr Weir said he hopes to unveil these in the coming weeks.
"The report recognises the extremely challenging circumstances which required the cancellation of examinations and the development of alternative awarding arrangements by CCEA," he said.
"However, there are a number of areas where the report identifies important considerations which will be reflected in the development of alternative awarding arrangements for 2021.
"I know that students, teachers and parents are waiting to hear about these alternative arrangements and I hope to announce proposals in the coming weeks."
CCEA chairperson Trevor Carson also welcomed the report.
"As an organisation which promotes learning we in turn have taken a number of very useful lessons from the report. Many elements have already been integrated into the contingency planning in which we have been engaged for some months," he said.
"Now that the Education Minister has formally announced the cancellation of exams again for the 2021 academic year we are fully focused on providing alternative arrangements which not only address the issues highlighted in the report, thereby building confidence in the qualifications but which also continue to embrace the overarching principle of fairness for all students."