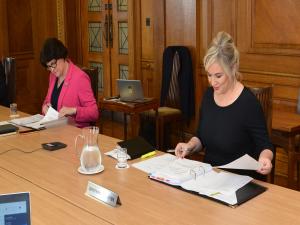 First and Deputy First Ministers discuss coronavirus guidelines
By Q Radio News, Michael McHugh and David Young, PA
Face coverings will be mandatory in shops in Northern Ireland from next month.
The measure to stifle the spread of coronavirus will be compulsory from August 1 but enforcement will begin on August 20 if necessary.
Stormont ministers will initiate a public awareness campaign over intervening weeks in the hope of securing voluntary compliance.
Health Minister Robin Swann said: "We are now starting that period of engagement and education with the general public to try and get as many people as possible wearing face coverings between now and that date."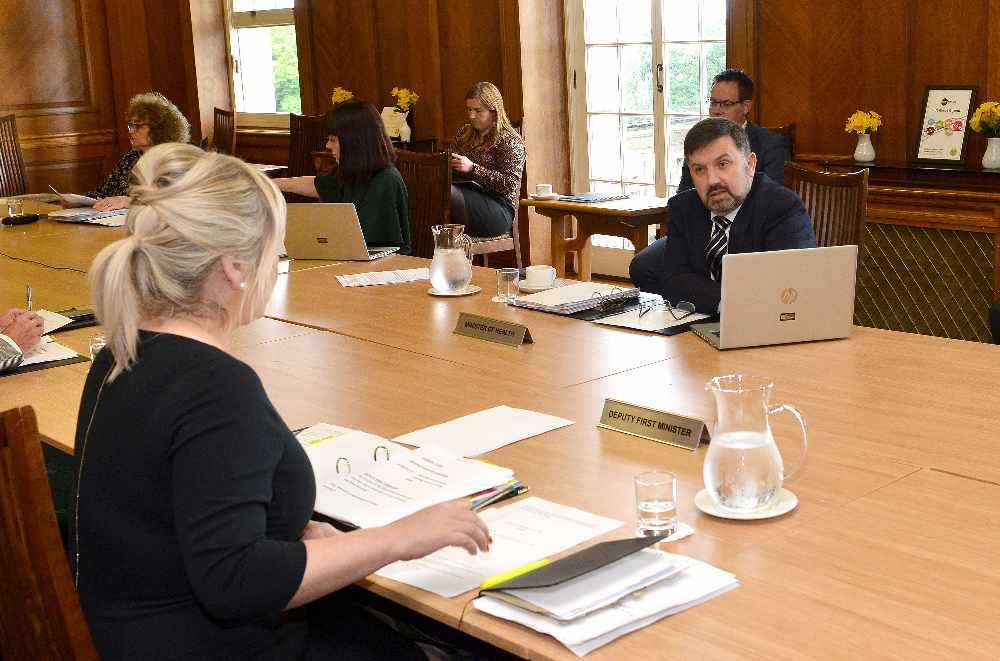 Deputy First Minister Michelle O'Neill and Health Minister Robin Swann discuss plans
He expects at least 80% compliance by August 20 amid attempts to prevent a second wave of infection this autumn.
Face coverings have been shown internationally to help protect other people from contracting the disease from someone who may have Covid-19 but do not change official advice around social distancing.
First Minister Arlene Foster said: "I think it is a graduated approach, it is an approach that recognises it is a big cultural change for a lot of people in Northern Ireland.
"I think it is important that we engage with the retail sector in particular to get them to buy into this issue."
The Executive will meet on August 20 to consider how widespread the uptake of face coverings has been and whether enforcement action is needed.
Ms Foster added: "Nobody wants to enforce this.
"We would prefer if people came along with us and in partnership decided to wear face masks when they are in enclosed spaces."
Stormont ministers also agreed to allow from Friday:
- Spectators at outdoor sports events where access and social distancing can be controlled;
- Reopening of spas and swimming pools;
- Reopening community centres;
- Recommencing of funfairs and bowling alleys.
(First Minister Arlene Foster discussing the wearing of face masks in NI)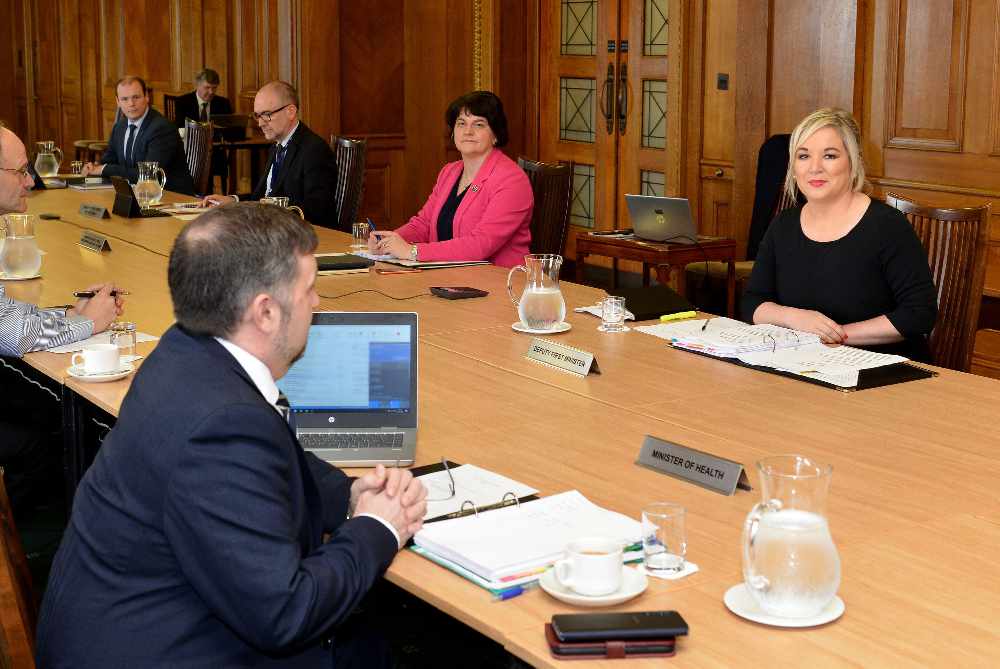 Robin Swann expects at least 80% compliance by August 20
Executive ministers have agreed to write to the British and Irish Governments asking them to convene a meeting of the British-Irish Council to try to resolve issues around travel and coronavirus.
The First Minister and Deputy First Minister want leaders in all jurisdictions to discuss covid-19 travel arrangements.
BREAKING: Stormont Executive ministers have provisionally agreed to make the wearing of face masks in shops in Northern Ireland mandatory from August 20.

They will initiate a public awareness campaign in the intervening weeks in the hope of securing voluntary compliance. pic.twitter.com/m8iFP6XYRG

— Q Radio News (@qnewsdesk) July 23, 2020
The Chief Executive of Hospitality Ulster has welcomed the reopening of bars that only sell alcohol, also known as 'wet pubs' but he has urged Ministers to consider clamping down on rouge businesses that do not confirm to the new guidelines.
Colin Neil said: "Obviously this is the first step and it's not going to easy. Lots of business will be reopening on August 10th with no cash and no revenue.
"They will have to buy stock and build custom. They will have extra costs involved.
"We still want the Northern Ireland Executive to bring in the power of closure for any rouge business, any irresponsible business that ignores the COVID safety guidelines."
Colin Neil
Meanwhile, Northern Ireland's Covid-19 contact-tracing mobile phone app will be launched next week, Stormont also decided.
It will be called Stop Covid NI and will be aimed at interrupting the spread of coronavirus by finding those most at risk of catching it.
Should someone receive a positive test for the disease, the person will be sent a unique code via text message.
Once the user gives permissions, the app will release data from the handset to a server so close contacts also using the app can be traced following a "digital handshake" between their devices, Stormont's health department said.
The intention is to alert close contacts of a patient within a day or two of a positive test.
The software's use will be voluntary and identifiable information will not be stored to comply with data protection regulations, an official told the health committee of Assembly members.
The operating system is designed by Google and Apple and its use will require Bluetooth to remain on.
Health Department official Dan West said: "We are going to do a general launch of the app next week and intend to follow up with specific guidance to employers."
Wednesday July 29 would be the earliest launch date, he said.