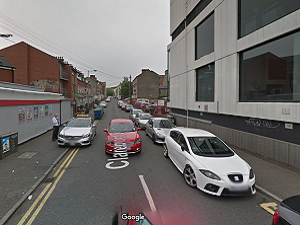 Claremont Street, Belfast
By Adam Evans
A fast food delivery driver has been left badly shaken after his vehicle was hijacked in south Belfast.
Police say the driver pulled up outside a property in the Claremont Street around 11.45pm last night.
He was then pulled from his Volkswagen Bora by two men who stole the keys and drove off.
A short time later there were reports of a damaged silver car being driving dangerously in Ballymagarry but the PSNI's not been able to find it.
Anyone who saw what happened in South Belfast - or who may have spotted in the vehicle around the Ballygomartin Road is being urged to contact police.
A spokesperson for the PSNI said: "One of the suspects is described as being of 'beefy' build and had facial stubble, and wore what was described as a blue-coloured football top. The second suspect is described as being of slim build, was unshaven and wore a grey-coloured top.
"At 11:54pm, we received a report a vehicle matching the description of the Volkswagen Bora that was hijacked had collided with two parked cars on Donegall Road, in the Shaftsbury Square end. There were no reports of injuries, however, both vehicles sustained frontal damage.
"This morning, Monday 3 September, just after 12am, we received a report a silver-coloured saloon-type vehicle with front end damage was being driven dangerously in the Ballygomartin Road area, Ballymagarry. Police conducted a check of the area, however, they were unable to locate the vehicle.
"Our enquiries are ongoing and I want to make a number of appeals today.
"Were you in the Claremont Street area last night, between 11:45pm and 11:50pm? Did you see you see what happened; did you see two males acting suspiciously in the area? Were you in the Donegall Road area last night around the time the collision was reported? Were you in the Ballygomartin area this morning just after midnight? Did you see a silver-coloured vehicle being driven dangerously?
"The silver-coloured Volkswagen Bora that was hijacked remains outstanding, and I would appeal to anyone who knows where this vehicle is to contact us.
"If you have information you believe could assist our investigation, call detectives at Musgrave on the non emergency number 101, quoting reference 1661 of 02/09/18."