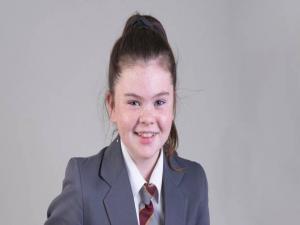 By Q Radio News
The funeral has taken place for a 14 year-old girl who died in a farm accident in Newry over the weekend.
Mourners gathered at St.Marys Parish Church in the city this afterrnoon to pay their respects to Abbie Nummy.
Captain Gary Roberts told mourners;
"Listening to the words from Abbie's family and friends it's clear that although she lived for just fourteen years she packed in so much during that time.
What an impression she has made upon the lives of those who knew and loved her - both family and friends.
Abbie lived her life to the full... she was filled with enthusiasm, topped up with boundless energy... cram packed with her own special sense of humour. Her life lovingly overflowed into her relationships with family at home and friends at school and wherever Abbie happened to be.
Abbie's life, her ways, her personality, her activities and her endeavours, remind me of the words of Jesus from John's gospel, chapter 10, verse 10.
Jesus said... I have come that they may have life and have it to the full.
As Christians we believe that God gives us all the precious gift of life. It's a sacred wonderful gift to celebrate share and enjoy.
Sadly, for some, like Abbie, it ends all too soon.
But the gift of life that God gives us is not a gift that only spans from the moment we're born to the time we die. It includes that.
But God's gift of life is for ever. A life that goes on even after death. The gospel tells us that just as life goes on so God continues to be with us. So, our life with God never ends, his love for us never ends and nothing can ever separate us from him.
Romans 8:38-39 NIV
[38] For I am convinced that neither death nor life, neither angels nor demons, neither the present nor the future, nor any powers, [39] neither height nor depth, nor anything else in all creation, will be able to separate us from the love of God that is in Christ Jesus our Lord.
Not only does God give us life but he gives us something far more wonderful still - himself.
We remember the words from the gospel story which remind us of this and which brings comfort to us today in our sadness and our loss."