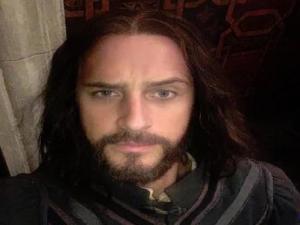 Stephen Hagan from Greenisland, playing Leonardo Da Vinci in Netflix series 'Medici'
by Gráinne Connolly
An actor from Greenisland is set to play artist Leonardo Da Vinci in series three of Netflix's drama series 'Medici'.
Stephen Hagan joins the high profile cast which includes, Dustin Hoffman, Richard Madden, who recently won a Golden Globe award (Bodyguard), Sean Bean, Sarah Parish and Daniel Sharman.
Medici is an Italian-British television drama series about the Medici dynasty set in 15th-century Florence.
The Medici family were one of the most powerful and influential families in 15th century Europe. As wealthy bankers, savvy businessmen and brilliant political strategists they rose to the highest ranks of Florentine society.
Their influence and power spread far beyond the city. The exploits of this powerful family have been brought to life in Medici.
(Stephen Hagan who plays Leonardo Da Vinci, alongside actor Daniel Sharman who plays lead role Lorenzo de Medici)
Stephen was raised in the village of Greenisland in County Antrim and studied acting at LAMDA in London.
He got his first lead role in a play for the Royal Shakespeare Company called The Giant, while he was still studying in 2007. In that same year, Stephen made his screen debut in the British drama Clapham Junction.
Mr Hagan has featured in films with stars including Steven Seagal, he was a regular on the BBC dramas 'The Cut' and 'Injustice' and then made his West End debut in critically acclaimed End of the Rainbow about Judy Garland's final days.
He has also been on local cinema screens recently having starred in the independent movie 'Zoo'. Seen through the eyes of a 12-year-old gang led by Art Parkinson, the movie is based on the true story of Denise Austin, who was nicknamed the "elephant angel".
Denise was a keeper at Belfast Zoo during the blitz in 1941. Stephen played the role of the zoo's vet, who is brought in to assist with the killing of the larger zoo animals by the Ministry of Public Security.
Stephen is married to the actress and comedian Wendy Wason, who is a regular Blame Game guest.
Wendy has written and performed several one woman shows in Los Angeles, Miami and at the prestigious Edinburgh Festival and Soho Theatre in London.
(Stephen alongside his son Max at Medici series 2 premiere in Italy)
Discussing what it was like to be involved in the high-profile drama series and play one of Italy's most infamous artists, Stephen Hagan says:
"It was a real honour to get the part. As big as we know Leonardo is throughout the art world, he has a special place in Italy's heart.
"The fact that the series is also going to be shown in Italy created an added pressure.
"People were very wary of some Irish fella turning up and playing one of the most famous Italians ever! He's so famous over there that they just refer to him as Leonardo-like Elvis!"
"Another aspect that I found challenging was the fact that Leonardo had educated himself extremely well in all subjects of the word.
"Mostly art, mechanics and anatomy. To talk as quickly and in as much detail as my character was a challenge. He's a lot more knowledgeable about things than I am, which isn't hard!"
"The filming locations were amazing. We started filming in September last year in Rome and then in Tuscany.
"I visited Florence and Da Vinci, a village outside of Florence where Leonardo was born and where he gets his name, to get some insight into environmental influences that may have been at play in his psyche. I aspire to one day be known as simply Stephen Of Greenisland!
"Filming for me finished last December and it is likely to be the beginning of 2020 before series three is ready for broadcast.
"Although we shoot in many stunning locations, they have to fill in the back grounds with CGI when we are outdoors, which can take a while. But it makes for a mesmerising show at the end."
(Stephen Hagan on set 'Medici' season 3)