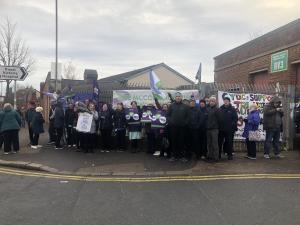 UNISON health and social care members take to the picket line outside the Royal Victoria Hospital
Q Newsdesk and Rebecca Black
More than 10,000 outpatient appointments and surgeries in Belfast have been cancelled amid ongoing industrial action by health workers.
Trade union Unison took part in planned waves of four-hour strikes on Monday.
🎥@UNISONNI health and social care members take to the picket line outside Royal Victoria Hospital in Belfast in a dispute over pay and staffing levels. Workers plan to step up industrial action this week. pic.twitter.com/IY7h7BZWsz

— Q Radio News (@qnewsdesk) December 2, 2019
Further action is planned this week, while the Royal College of Nurses will stage 24 hours of industrial action, short of strike, on Tuesday.
The Health and Social Care Board has apologised to all those affected.
On Monday, Belfast Trust chief executive Martin Dillon told the BBC that outpatient cancellations meant people due to have cancer diagnostic tests this week had seen their appointments stood down.
Patricia McKeown, regional secretary Unison NI, responded by saying: "The Trust did not indicate any intention to cancel cancer diagnostic treatment. If it had done so, it would have been exempted.
"We ask the Belfast Trust to urgently engage with Unison's local representatives to explain why they have taken this action and to put it right."
Hospitals expected to be affected on Tuesday include the Royal Victoria Hospital, Children's Hospital, Royal Jubilee Maternity Hospital, School of Dentistry, Belfast City Hospital, Mater Hospital and Musgrave Park Hospital.
The industrial action comes after talks last month between trade unions and employers ended without agreement.
Ms McKeown said the action is against "unjust pay and unsafe staffing levels".
The Department of Health said a formal pay offer was made, which represents a 2.1% increase to the pay bill.
The department's Permanent Secretary Richard Pengelly said it was the best that could be afforded given what he described as budgetary constraints and amid the limited authority in the absence of a health minister at Stormont.
🎥 @UNISONNI health and social care members are stepping up industrial action this week, in a dispute over pay and staffing levels. Workers have taken to the picket line outside the Royal Victoria Hospital in Belfast. pic.twitter.com/KLlFzKg86x

— Gráinne Connolly (@grainne555) December 2, 2019
🎥 Pat Neeson is a porter at the Royal Victoria Hospital in Belfast and @UNISONNI rep. He says it's "demoralising" going to work, knowing he is getting paid less than his counterparts in other parts of the UK. pic.twitter.com/G5iakpUnKv

— Q Radio News (@qnewsdesk) December 2, 2019
🎥 @UNISONNI rep Conor McCarthy is alongside members taking industrial action at the RVH in Belfast. He says @healthdpt needs to call a crisis situation in NI in regards to health care. He believes issues surrounding pay and staffing will only get worse if action isn't taken. pic.twitter.com/rnbzMvYykG

— Q Radio News (@qnewsdesk) December 2, 2019