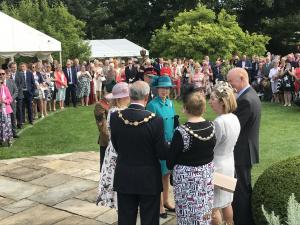 By Simon Hunter
Princess Anne continues a two-day visit of Northern Ireland this afternoon.
Her Royal Highness spent time at Hillsborough Castle yesterday, at the Secretary of State's garden party.
One of the guests she met there was Norman Surplus from Larne.
He became the first man to fly an auto-gyro aircraft across the world, after having been given 18 months to live from a bowel cancer diagnosis 10 years ago.
He told Q Radio he wants to send a strong message to cancer sufferers.
Secretary of State for Northern Ireland, Karen Bradley, welcomes HRH Princess Anne to Hillsborough Castle for today's garden party. Her Royal Highness is meeting officials and community representatives on a two-day visit to NI. @qnewsdesk pic.twitter.com/hQjfVHA2d6

— Simon Hunter (@simezsez) September 4, 2018
A brass band played a variety of music for the guests as they had afternoon tea in the September sunshine.
Cornet player Josh told Q Radio he was thrilled to be there.
HRH Princess Anne plants a tree at Hillsborough Castle, as part of her 2-day visit to NI, watched on by @uuponline leader and garden party guest Robin Swann. @qnewsdesk pic.twitter.com/fumRymkd8m

— Simon Hunter (@simezsez) September 4, 2018