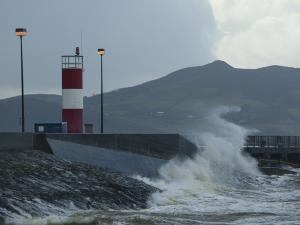 By Michael McHugh
An inquest into the deaths of five members of a family whose car plunged off a pier in Ireland begins later.
Evan McGrotty, aged eight, died alongside his 12-year-old brother Mark, his father Sean, 46, grandmother Ruth Daniels, 57, and her 14-year-old daughter, Jodie Lee Daniels, when their SUV sank after sliding off a slipway in Buncrana, Co Donegal, in March 2016.
It is understood the vehicle lost grip on a thick blanket of algae coating the structure and slid into the waters of Lough Swilly.
The inquest will be held at a hotel in the town.
The only survivor was a baby girl. The child's mother, Louise James, has said the infant was her only reason to go on living.
Former footballer Davitt Walsh swam out into the harbour in an effort to save the six occupants of the Audi Q7.
Sean McGrotty handed his four-month-old baby daughter Rionaghac-Ann to Mr Walsh through the broken driver's side window just moments before the vehicle sank.
Mr Walsh has been awarded a gold medal for bravery at sea.