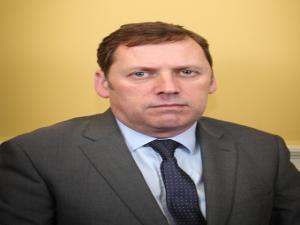 Barry Cowen
By David Young, PA
Ireland's sacked agriculture minister has insisted he is not a victim.
Barry Cowen said he had paid a heavy price after Taoiseach Micheal Martin dismissed him amid ongoing controversy around a drink-driving offence in 2016.
Mr Cowen, who was sacked after only 17 days in office, said he had not spoken to Mr Martin since he removed him from his post on Tuesday night.
He said Fianna Fail was bigger than him and the Taoiseach. Mr Cowen made clear he would not be quitting the party and signalled his desire to one day return to government.
"I'm not a victim, it's the consequences of an unfortunate mistake that I've paid a dear price for," he said in an interview with his local radio station Midlands 103 on Saturday morning.
The Laois-Offaly TD was sacked by the Taoiseach after he refused to provide further public statements on the 2016 incident, and in particular claims in a gardai file that he attempted to avoid a Garda checkpoint.
He had already apologised in the Dail after the drink-drive conviction first came to light earlier this month but came under further pressure last weekend when it was reported that a Garda record of the incident suggested he had initially tried to avoid the checkpoint.
Mr Cowen denies any allegation that he attempted to avoid gardai and has vowed to take steps to "rectify" the impact of a leaked Garda record on the incident. He has insisted the record is inaccurate.
The Garda Ombudsman is already investigating how the information got into the public domain.
The Fianna Fail stalwart and brother of former taoiseach Brian Cowen had argued that making further public comments on the incident would have compromised his efforts to address issues around the leaking of the report.
Mr Martin did not accept that position and dismissed him when he refused to resign.
In the radio interview, Mr Cowen said: "Ultimately, it's a hard price to pay for such an event but you know I've apologised on many occasions, and do so again to my constituents and to the general public for that lapse of judgment and lack of judgment.
"But having said that, you know, I'm in a public life and as a public representative you put yourself out there, you have to accept and appreciate the way in which you're held to account and that's only right and proper and I accept that.
"I do have a wife and family and a wider family whom are not in public life, yet have to suffer the consequences of an event such as this. But, as I said, we're tough and resilient."
He added: "You know this party has come through bigger events than this, this party as I said, has been good to me, it's been good to my community, it's been good to this country.
"And it's bigger than me and it's definitely bigger than Micheal Martin or anybody else."
Fianna Fail deputy leader Dara Calleary has been appointed as Mr Cowen's successor having initially been made chief whip in the newly formed coalition government.
Mr Cowen said politics cold be a "cruel game".
"But you pick yourself up, dust yourself down and you move on," he said.
He said he acknowledged that many people believe his punishment in 2016 - a fine and three-month driving ban - was not enough.
"And that may well be the case," he said.
But he added: "I'm very comfortable in my own skin. The mistake that I made, the stupid mistake that I made, the lack and lapse of judgment on my part in relation to that incident is behind me, and, you know, I was penalised properly and effectively then, and that humiliation and embarrassment was added to with the last number of weeks, and the manner in which I had to address it."
He said he would not be dwelling on his dismissal or wallowing in sympathy.