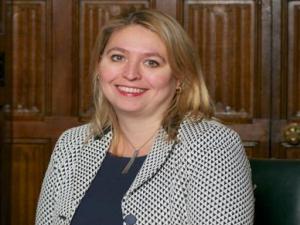 By Michelle Devane, Sam Lister and Michael McHugh, Press Association
The Irish government has said Karen Bradley is a smart and experienced politician after she admitted she initially did not understand Northern Ireland politics when she took on her Cabinet brief.
The Northern Ireland Secretary will be working closely with Dublin, as co-guarantors of the peace process, over coming weeks to kickstart powersharing talks.
She revealed that when appointed earlier this year, she did not realise that the country's nationalists did not vote for unionist parties or vice-versa during elections.
Sinn Fein said her comments were a reminder of where the country is on the British Government's priority list but No 10 has said Prime Minister Theresa May retains confidence in her.
Irish foreign affairs minister Simon Coveney said: "She's someone who has really made an effort to understand Northern Ireland.
"She didn't have a lot of experience of Northern Ireland before being appointed there but she's an experienced, very smart politician and I'm going to work closely with her to help the parties in Northern Ireland to work with each other in a way that's good for people in Northern Ireland.
"Whether you're a unionist or a nationalist, having no devolved government structures, having no capacity to make political decisions in Northern Ireland is bad for everybody, both communities.
"Karen Bradley recognises that, so do I."
Ms Bradley also said she did not fathom some of the deep-rooted issues that define Northern Irish politics when she was first appointed.
Earlier this year, an immigration minister quizzed about the Irish border at Westminster admitted she had not read in full the 1998 Good Friday peace agreement.
Sinn Fein's former Stormont finance minister Mairtin O Muilleoir said Ms Bradley's comments were a "sorry reminder" of where the country was on the priority list of the British Government.
He added: "We have gone beyond being shocked by the British Government's ignorance of affairs here and their disregard for the rights of people here but there is no way they would appoint a Chancellor of the Exchequer who could not count or did not know how to read a P and L (profit and loss statement).
"When it comes to appointing their representative in Belfast, the only requirement was that that person would take the orders of Theresa May, who of course is taking her orders from the DUP."
A No 10 spokeswoman said the Northern Ireland Secretary is working incredibly hard to restore devolved government to Northern Ireland.
Asked if the PM remained confident that Ms Bradley was able to do the job, the spokeswoman replied: "Yes, she is working very closely with the parties there."
Asked how voters in Northern Ireland could have confidence in Ms Bradley, the spokeswoman replied: "I would point to all of the work that she is doing to restore devolved government to Northern Ireland."
Ms Bradley was appointed in January after her predecessor James Brokenshire stepped aside for medical reasons.
She told The House magazine: "I didn't understand things like when elections are fought for example in Northern Ireland - people who are nationalists don't vote for unionist parties and vice-versa.
"So, the parties fight for election within their own community.
"Actually, the unionist parties fight the elections against each other in unionist communities and nationalists in nationalist communities."