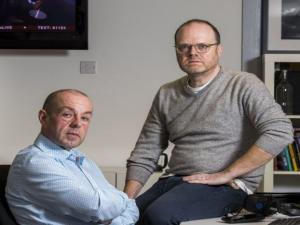 By Q Radio News
Two Belfast journalists whose homes were raided are to sue the police for wrongful imprisonment.
Lawyers for Trevor Birney and Barry McCaffrey confirmed their intention to seek damages at the conclusion of legal attempts to secure the deletion of documents seized and copied.
Even though all confiscated material was returned to the pair after the search warrants were quashed, information remains on police systems.
Judges were told they now plan to issue writs once a resolution to the stored data is reached.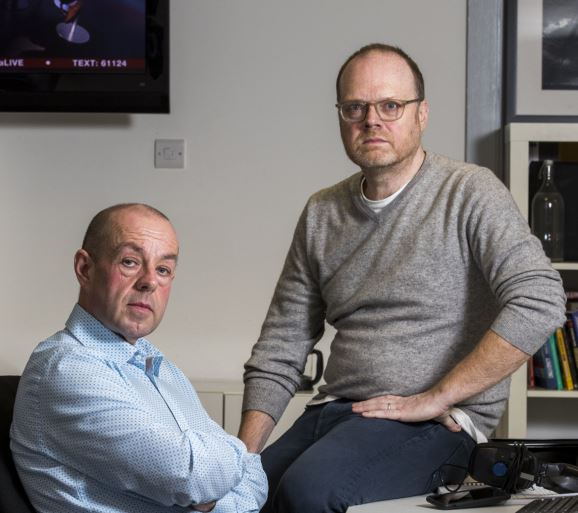 In August 2018 Mr Birney and Mr McCaffrey were detained, questioned and released in a case linked to a documentary film on the Loughinisland atrocity.
Raids were also carried out at their homes and offices after warrants were granted as part of an investigation into the suspected theft of confidential papers from the Northern Ireland Police Ombudsman's Office.
Computer equipment, files, phones, cameras and notebooks were all seized during an operation undertaken by detectives from Durham Constabulary, supported by PSNI officers.
The case is connected to the No Stone Unturned documentary, which examined the Royal Ulster Constabulary's handling of the loyalist murders of six Catholic men at Loughinisland, Co Down in June 1994.
Earlier this year the journalists won their challenge to the legality of warrants.
Judges ruled that authorisation for the searches had been inappropriate.
They also held that Mr Birney and Mr McCaffrey had acted properly to protect their sources, in line with the National Union of Journalists' (NUJ) code.
Days later police confirmed they had dropped their investigation into the pair.
Despite the journalists subsequently reclaiming their possessions, a final remedy has yet to be reached on any copied material still stored by police.
In court today counsel for the PSNI claimed a potential resolution had been proposed, but requested an adjournment to seek instructions from the Chief Constable.
Mr Birney's barrister alleged, however, that police have failed to identify what they still have in copied or backed-up data.
Barry Macdonald QC said: "If we got a list of live material we can agree how it should be deleted."
Plans to claim damages for unlawful arrest, false imprisonment, interference with property and misfeasance in public office were also outlined.
Gavin Millar QC, representing Mr McCaffrey, added that his client wanted "a degree of finality" in the case.
Following submissions Lord Chief Justice Sir Declan Morgan adjourned proceedings to next month.
Outside court Mr Birney's solicitor, Niall Murphy said: "The sole issue outstanding is the deletion of all the data. There is no agreement between the parties on this matter.
"It was confirmed that civil liability for the wrongful arrest and unlawful detention of Mr Birney and Mr McCaffrey will be formally converted to a writ for damages at the conclusion of these proceedings." ends