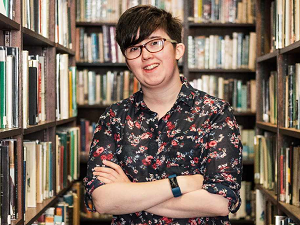 29-year-old Lyra McKee was shot dead while observing rioting in the Creggan Estate in Derry/Londonderry in 2019
by Q Radio News
A judge at Derry Magistrate's Court has said that the proposed Preliminary Inquiry for two men charged in connection with the rioting and murder of the journalist Lyra McKee is 'at present just not doable'.
Paul McIntyre (52) of Kinnego Park in Derry is charged with the murder of Ms McKee as well as charges relating to the rioting on the night she was shot.
Christopher Gillen (38) of Balbane Pass in Derry is charged with the rioting on April 18 last year.
At the last hearing it was proposed to try and hold the PI hearing on September 1.
However, at today's hearing a prosecution barrister said they had been served with a defence application for disclosure which would take sometime to deal with.
He asked for an adjournment until next Thursday to 'see where we are'.
District Judge Ted Magill said that in his opinion the only way this could be handled would be if the legal practitioners were in court.
Then he said there would be problems with letting witnesses see documents and maps.
Judge Magill added that under current rules there could not be more than 10 people in court and with the judge and court staff that was five in itself.
Then there would be four defence barristers and two solicitors.
The judge said that in the present system under which the court was operating it was not possible to proceed with a PI.
Judge Magill said: "The system is at present just not capable in dealing with anything except the absolute basic."
The case was adjourned until July 30.