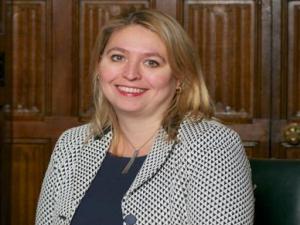 By George Ryan and Q Radio News
The effects of a no-deal Brexit would be "long-lasting and more acute" in Northern Ireland, the Secretary of State has warned.
Karen Bradley said she was "clear" that she wanted to see the UK leave the European Union with a deal.
Shadow Northern Ireland secretary Tony Lloyd asked her to outline her opposition to no deal.
He said: "We know and the Secretary of State knows - because she has voted in a way to prevent it - that a hard Brexit would lead to a hard border across the island of Ireland.
"With the threats of terrorism that the former chief constable invokes, with the increase in unemployment, with all the difficulties that would cause, she has taken a different view in the past.
"Will she make it clear that a no-deal Brexit would be massively damaging to the people of Northern Ireland and she will continue to oppose that?"
Ms Bradley said: "I have been clear throughout, I want to see the United Kingdom leave the European Union as one United Kingdom.
"I think the best way to do that is through a deal that enables us to leave in an orderly fashion, protecting jobs and the economy.
"I have also been clear that (the effects of a) no-deal Brexit would be long-lasting and more acute in Northern Ireland.
"But I am doing everything I can to ensure we leave with a deal."
SNP MP Gavin Newlands (Paisley and Renfrewshire North) asked the Northern Ireland Secretary to commit to voting against a no-deal Brexit if MPs are given a vote on it.
He said: "Like the Chancellor yesterday, would she commit to do everything she can to avoid no deal?"
Ms Bradley responded: "The right way for the United Kingdom to leave the European Union as one United Kingdom is with a deal and that's what we're hoping to achieve."
Later, shadow Northern Ireland minister Stephen Pound asked about Conservative leadership candidate Boris Johnson's suggestion of creating a tax-free zone in Belfast.
He said: "The Secretary of State will be aware that the right honourable member for Uxbridge, who aspires to be the father of the nation - and to be fair he does have some expertise in the field of paternity - has announced his intention of creating a Monaco-style tax-free zone in Belfast with presumably a border around that fair city.
"Does the right honourable lady consider this proposal to be risible, ridiculous or the product of an unfocused mind with no knowledge of Northern Ireland?"
Responding for the Government, Northern Ireland minister John Penrose said: "I'm afraid I cannot answer for the right honourable gentleman who holds the seat for Uxbridge, for that is a skill set which I do not have."