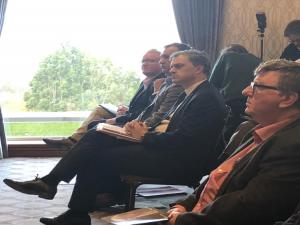 By Q Radio News
The Northern Ireland Secretary of State has insisted the 13th of January deadline to restore Stormont "is real".
Julian Smith also said an assembly election will have to be called if devolution is not restored in the new year.
Speaking in Belfast he also confirmed fresh talks with local political parties will begin the week before Christmas on the December 16.
🎥 NI Secretary @JulianSmithUK says a number of issues remain among local political parties but believes a deal can be reached if they begin "serious" negotiations from the 16th Dec. Also says election will have to be called if Stormont's not restored by 13th Jan. pic.twitter.com/z3cvaLsVC7

— Q Radio News (@qnewsdesk) November 27, 2019
"This one (deadline) is real, January 13 the law changes and an election has to be called in the absence of new legislation," he said.
"Each party had made a commitment to getting back into talks and I think that will happen whatever the situation the week after the election.
"We can't let this run and run, we have got to get this sorted. The number of issues is relatively small. There is a deal raring to go, my colleague Simon Coveney has been meeting with Sinn Fein and others this week. I have been continuing to meet with the parties in Northern Ireland.
"Let's see what the election result is, but in all circumstances every party needs to get back into serious discussions that week before Christmas."
Mr Smith believes a deal can be achieved but says parties must be serious when they get back round the negotiating table.