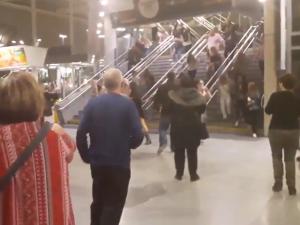 QRADIO NEWS
Police say a lone male attacker carrying an improvised explosive device was responsible for a bombing at Manchester Arena.
The explosion at the end of a sold-out Ariana Grande concert has killed 22 people and injured 59 others.
Greater Manchester Police chief constable Ian Hopkins has confirmed that children are among those who died.
Theresa May says the #ManchesterAttack is "among the worst terrorist incidents we have ever experienced" pic.twitter.com/YEKCwg3qcR

— Sky News (@SkyNews) May 23, 2017
Investigators are trying to establish whether the attacker, who also died at the scene, was part of a wider network.
A detailed forensic search is under way at the arena, and nearby Manchester Victoria train station remains closed.
Latest statement on incident at Manchester Arena @CCIanHopkins pic.twitter.com/LDG1wgX2sT

— G M Police (@gmpolice) May 23, 2017
Ariana Grande, who was not harmed in the attack, tweeted: "broken. from the bottom of my heart, i am so so sorry. i don't have words."
Her manager Scooter Braun said they mourned "the lives of children and loved ones taken by this cowardly act".
broken.
from the bottom of my heart, i am so so sorry. i don't have words.

— Ariana Grande (@ArianaGrande) May 23, 2017
Theresa May, who will chair an emergency COBRA meeting at 9am, said her thoughts were with the victims and families of those affected and has condemned "what is being treated by the police as an appalling terrorist attack".
Home Secretary Amber Rudd also condemned the "barbaric attack, deliberately targeting some of the most vulnerable in our society".
Major political parties have suspended General Election campaigning until further notice, and flags in Downing Street have been lowered to half-mast in honour of those killed and injured.
Our thoughts are with Manchester this morning and our colleagues @gmpolice as they continue their investigation.

— PSNI (@PoliceServiceNI) May 23, 2017
Terrible news coming from Manchester. My thoughts & prayers with all those caught up & the emergency services who are attending the scene. https://t.co/lpD2RtqhnV

— Arlene Foster (@DUPleader) May 22, 2017
Devastating news from Manchester...thoughts & prayers with the families of those who lost their lives, the injured & all their families

— michelle oneill (@moneillsf) May 23, 2017
SDLP Leader @columeastwood has suspended party campaigning & our manifesto launch as a mark of respect to victims of the Manchester attack.

— SDLP (@SDLPlive) May 23, 2017
Our thoughts and prayers are with those families who have lost loved ones in last nights horrific attack in Manchester, truly sickening.

— Robin Swann MLA (@RobinSwannUUP) May 23, 2017
Thoughts with those caught up in incident at Manchester Arena tonight and to those emergency services responding.
https://t.co/BsnE1HZaLJ

— Naomi Long MLA (@naomi_long) May 22, 2017
Shocking news from Manchester. Thoughts, & prayers with victims, survivors, families & community. Condolences & sympathy to those involved. https://t.co/pCuBnhDYfu

— Charlie Flanagan (@CharlieFlanagan) May 23, 2017
Several young people have been reported missing following the explosion - with concerned friends and relatives appealing for information on Twitter.
A hotline has been set up for those with concerns over loved ones who remain unaccounted for.
Footage from inside the venue showed fans running and screaming after the explosion, which happened at about 10.35pm last night.
Manchester Arena said the incident had happened outside the venue "in a public space". Others said it happened close to the ticket offices in a foyer area.
We opened our show talking about Manchester. Our thoughts are with everyone affected. https://t.co/yrgu03JTK8

— James Corden (@JKCorden) May 23, 2017
Broken hearted for the families tonight. Broken hearted for Ari. Broken hearted for the state of this world. 😔

— KATY PERRY (@katyperry) May 23, 2017
My thoughts, prayers and tears for all those affected by the Manchester tragedy tonight. I'm sending all my love.

— Taylor Swift (@taylorswift13) May 23, 2017
MY PRAYERS GO OUT TO PPL OF MANCHESTER…HAD SPECIAL TIMES THERE FROM YOUTH & BEYOND

— Cher (@cher) May 22, 2017
Just woken up and seen the news. My heart and soul is broken for every single victim, and their families and friends. So painfully sad x

— Sam Smith (@samsmithworld) May 23, 2017
My heart hurts for my sister, Ariana & every family affected by this tragic event in the U.K. Innocent lives lost. I'm so sorry to hear this

— NICKI MINAJ (@NICKIMINAJ) May 23, 2017