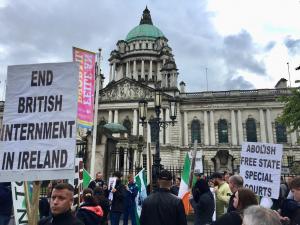 By David Young, PA and Q Radio News
A republican anti-internment rally has passed off without incident in Belfast.
Around 100 demonstrators gathered at City Hall on Saturday afternoon, with police standing between them and around 40 loyalists waving Union flags.
Both the protest and counter-protest were low key, with no chanting and minimal verbal exchanges between the sides.
Republicans have held an anti-internment rally outside Belfast City Hall after a planned parade was banned. They were heckled by members of the public as police monitored. pic.twitter.com/GpCf6RjTbF

— Q Radio News (@qnewsdesk) August 10, 2019
The event organised by hard-line republicans marked the introduction of internment without trial by the Stormont administration, with the support of the UK government, during the height of the Troubles in August 1971.
The controversial policy of detaining paramilitary suspects without trial ended in 1975.
However, rally organisers the Anti-Internment League (AIL) allege it is still effectively operated by the state authorities - both north and south of the border - in the present day.
In past years the AIL had organised a parade in the city - an event that has ended in clashes with security forces on a number of occasions.
.@PoliceServiceNI monitor anti-internment rally outside Belfast City Hall. Held after a planned republican parade was this week banned from entering city centre. pic.twitter.com/zEY8ZjFes4

— Q Radio News (@qnewsdesk) August 10, 2019
This year, the organisers staged a static rally at City Hall after the Parades Commission banned the parade from passing through sections of the city centre.
AIL spokesman Dee Fennell told the rally that "loyal orders, loyalist paramilitaries and British state forces" regularly march in the city.
"There is not one demonstration in this city that involves republicans on an annual basis," he added.
"This would be the only one and now we have a situation where the state has banned it from marching.
"Rather than being restricted and being told we couldn't enter, here today we have legally and radically decided to come to the front of the City Hall in numbers to show that we oppose internment by Britain and the 26 counties via revocation of early release licence, by miscarriage of justice and by remand."
There are currently 41 prisoners held in separated prison accommodation in Northern Ireland - 15 in a dissident republican block and 26 in a loyalist one.
Of those in dissident accommodation, 10 are sentenced prisoners and five are on remand.
Of those held in the loyalist block, 24 are sentenced prisoners and two are on remand.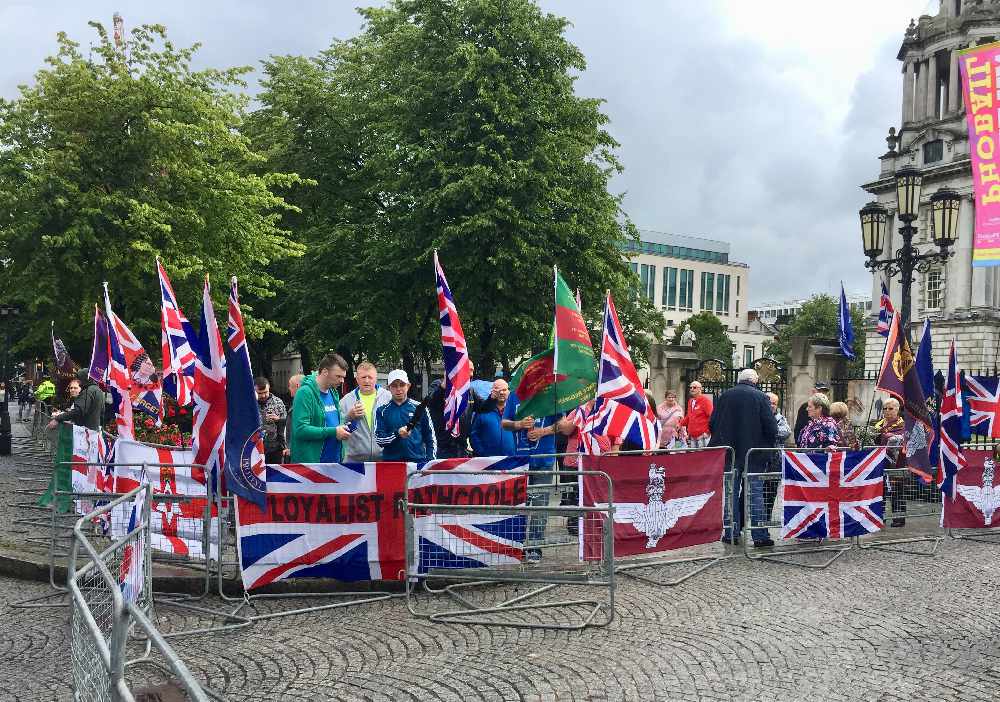 (People protest at a counter demonstration against a republican anti-internment rally, which passed off without incident in Belfast city centre on Saturday.)