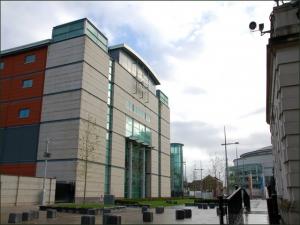 By Paul Higgins
A Nigerian man appeared in court today accused of trying to kill a pregnant woman.
Appearing at Belfast Magistrates Court via videolink from police custody, 46-year-old Francis Osemwengie confirmed that he understood the five charges against him.
Osemwengie, with an address at Ainsworth Drive in north Belfast, was charged with the attempted murder of a female, inflicting grievous bodily harm on a second victim with intent, two counts of possessing a weapon, namely a piece of broken bannister, with intent to commit attempted murder and GBH with intent and common assault of William Irvine, all alleged to have been committed on Thursday, August 6 this year.
None of the facts surrounding the allegations were opened in court but it is understood they relate to an incident on Ainsworth Drive in north Belfast where a pregnant woman was attacked.
A police spokesperson said in an earlier statement that she remains in hospital in a stable condition.
Giving evidence to the court, Constable Crawford said she was aware of the facts of the case and that believed she could connect Osemwengie to each of the charges.
Defence solicitor Joe McVeigh confirmed that he was not applying for bail and that being the case, District Judge Fiona Bagnall remanded Osemwengie into custody, adjourning to reappear on September 4.