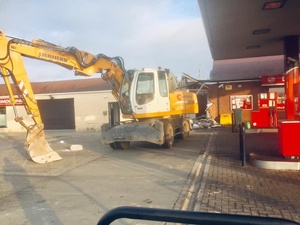 A digger left at the scene of a recent ATM theft in Omagh
Q Radio news
Police investigating the theft of ATM machines in Fermanagh and Tryone have charged a 29-year-old man.
He's due before a court in Dungannon later on suspicion of possession of criminal property, handling stolen goods and theft.
It's understood the man is one of two arrested after searches in Omagh yesterday.
Another 31-year-old man remains in police custody.
The latest charges are linked to the discovery of a digger, low loader and trailer.
There's been dosens of ATM thefts on both sides of the Irish border in recent months.
Machines have been ripped from the walls of small businesses using a digger, before being driven off and the plant machinery set on fire.