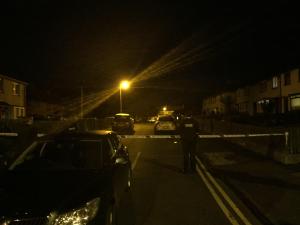 There were emotional scenes in court today as a Lisburn man was remanded into custody accused of his father's murder.
Standing in the dock of the city's Magistrates Court in a grey jumper and blue jeans, 44-year-old Gerard John Mulligan spoke only to confirm that he understood the single charge against him and then sat with his head bowed throughout the 20 minute hearing.

Mulligan, from Lisburn Square, is accused of the murder of his father Gerald Mulligan on 26 September this year.

The body of father-of-four Mr Mulligan, a retired business man who was in his 70's, was found in the boot of a car in the Limehurst Way area of the city on Monday afternoon having reportedly sustained severe head injuries and his son was arrested a short time later.

A detective Constable testified that he believed he could connect Mulligan to the murder and during an unsuccessful bail application, revealed that the defendant had confessed to "striking in someway his father with a breeze block, whether that was intentional or not we never got a chance to press that."

Objecting to bail on the grounds that Mulligan would commit further offences, interfere with witnesses or fail to turn up to court, the officer revealed how the alleged killer asked his partner to come to his father house because he had "taken an amount of drugs."

When she got there she noticed he was "covered in blood" and when she asked where it had come from, he allegedly told her "I have murders my dad, he's in the boot of the [vauxhall] tigra."

Police were called to the scene of the gruesome discovery and arrested Mulligan but because of his condition, he was taken to the Mater Hospital for psychiatric assessment before being transferred back into police custody for interview.

The DC told the court however it was "difficult" to get an account from Mulligan but under cross examination from defence solicitor Feargal MacElhatton, the officer agreed he had claimed there had been a "heated exchange" between the father and son which resulted in the incident.

The solicitor claimed that immediately afterwards Mulligan "panicked" and put his father's remains in the boot of the car which belonged to the defendants partner.

The detective agreed there had been three police interviews which totalled 55 minutes and although the PSNI wanted to extend Mulligan detention, a senior PPS lawyer "said there was sufficient evidence to charge."

Mr MacElhatton submitted that Mulligan's account "had not unfolded" and that the decision to bring him to court instead of extending his detention denied him "an opportunity to have an innocent explanation."

District Judge Rosie Watters pointed out however "that maybe an argument for somewhere else."

The solicitor submitted that with family ties and roots in NI Mulligan did not pose a risk of flight and in regards to witness interference, he revealed that many were relatives of the defendant including his partner whom he contacted while in police custody with police agreement.

Refusing the bail application however, Judge Watters said the case was a "terribly tragic incident" but that she considered Mulligan as a "persistent offender" who has a "pretty poor record" including convictions for assaults, adding that murder "is obviously the most serious thing he had faced."

Remanding the alleged killer into custody to appear again via videolink on October 24, the judge said she was concerned about further offences being committed and "concerned to some extent about witness intimation."

As Mulligan was being lead from the dock, one emotional and weeping lady shouted out "murderer, murderer" while another on the other side of the court told Mulligan "I will always love you."