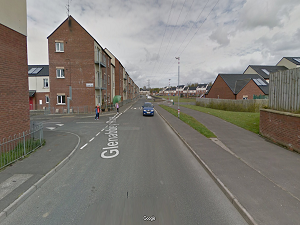 By Adam Evans
A man and a woman have been left badly shaken after a masked gang broke into their home in Derry Londonderry.
It happened early this morning in the Glenabbey Street area.
One of the three men is thought to have had a firearm.
Detective Sergeant Brian Reid said: "Three masked males attempted to force entry to the property at approximately 12.30am. It is believed one of the males had a suspected firearm.
"No entry was gained to the house, and it is believed the males fled the property in an old type, silver coloured VW Golf in the direction of Donegal.
"A male and female in the house at the time of the incident were physically uninjured, however, they were left badly shaken.
"The first male, believed to be approximately 6 ft tall, is described as being of a large build and was wearing combat-style trousers. The second male is described as having a stocky build. He was wearing a tracksuit-type top, without a hood, with writing on it. The third male is described as being of a stocky build and was wearing dark clothing.
"We are appealing for anyone with any information that can assist with the investigation to contact Detectives at Strand Road Criminal Investigation Branch by calling the non-emergency number, 101, quoting reference 34 21/07/17.
"Information can also be given anonymously to the independent charity Crimestoppers on 0800 555 111."