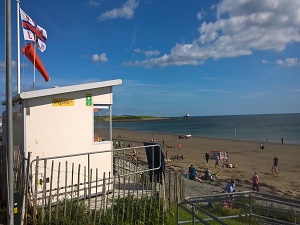 By Rebecca Black, PA
Measures to boost the hospitality and tourism industries after the coronavirus pandemic have been welcomed.
Chancellor Rishi Sunak announced measures including a six-month cut in VAT from 20% to 5% for the hospitality and tourism sectors, a £1,000 bonus for every staff member kept on for three months when the furlough scheme ends in October, and a scheme to give 50% off to people dining out in August.
They have been welcomed by a range of groups involved in the sectors.
Northern Ireland Hotels Federation chief Janice Gault described them as a "game changer" that will "increase our chances of survival".
"The news of a cut in VAT on food, accommodation and attractions from 20% to 5% until 12 January is a tremendous result for the sector, under the Chancellor's plans to kick-start the economy," she said.
"It will allow us as an industry to compete on an all-island basis and it also helps hoteliers address a number of challenges as they return to trading."
Howard Hastings, managing director of the Hastings Hotels group, said the move will allow his hotels to update their rates to offer cheaper accommodation.
He said he hoped the measures may allow the firm to reopen the Europa Hotel for accommodation earlier than planned on August 1.
"These measures will go a long way in helping the local economy recover in the coming weeks and months ahead and will hopefully encourage more people to visit restaurants and book a staycation this summer," he said.
"We hope this will also give an extra incentive to visitors from the Republic of Ireland and the UK to book a visit to Northern Ireland this summer as it certainly adds extra value to what we already offer."
Ann McGregor, chief executive of Northern Ireland Chamber of Commerce and Industry, gave a more cautious welcome.
"Businesses will welcome many of the Chancellor's announcements, although it is likely that the scale of the stimulus needed to help the economy recover will need to be greater still over the coming months," she said.
"We now look to the Northern Ireland Executive for clarity on how it plans to use the Barnett consequential revenues in Northern Ireland."
Meanwhile, Retail NI chief executive Glyn Roberts said the measures "should have been more ambitious".
"There a number of positive measures in this statement such as the furlough bonus, increased investment in infrastructure and support for our hospitality sector," he said.
"However, there is little in this economic update to boost consumer confidence and to get people spending again in our retail sector. A temporary reduction in the headline rate of VAT would have been helpful in achieving this.
"The Government also needs to provide further clarity on whether local shops with hot food counters will be able to benefit from the VAT cut and 'eat out to help out' discount announced during his statement.
"The Chancellor should have also looked at introducing some form of a voucher scheme to boost consumer spending in independent retailers."