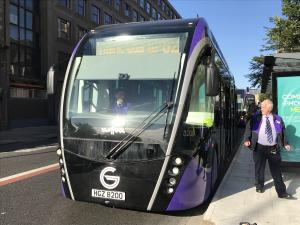 By Simon Hunter
It's that time of year again- kids are back to school, and peak holiday season has come to an end.

For some it feels like a bit of a drag, perhaps the moment they've been dreading since the end of June.

But for others, it signals a fresh start, new beginnings.

That's certainly true of those who've been eagerly waiting to try out a brand new and innovative mode of transport for Belfast-the Glider.
The weather, a bright and sunny September day, seemed like the ideal conditions in which to invite people to become the very first passengers on the service.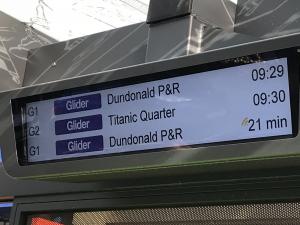 It started at 05:20, linking the east, west, city centre and Titanic Quarter.
Q Radio caught up with Des McCaugher- one of the very first to get on board.
Another passenger, Gillian, spoke to Simon Hunter on her first journey.
We've also been hearing from people waiting at the new bus stops or halts.
One of the features of the new service today has been the presence of staff at each of the new halts.
Matthew, who's been helping people get to grips with how to use it, spoke to Q Radio.
#GliderBelfast looks the part, and is now operational, linking the east and west of Belfast with the city centre, as well as the popular tourist hotspot Titanic Quarter. But are its first passengers impressed? Tune in to @qnewsdesk at 1! pic.twitter.com/6LckDnCeBP

— Simon Hunter (@simezsez) September 3, 2018
Translink Chief Exec, Chris Conway admits there will be teething problems.
So the first day of operations hasn't been without it's issues-delays being the main sticking point for passengers.
A Translink meeting's being held, as a way of collecting learning points from today and looking to influence improvements.
It's perhaps not been the smoothest of starts for the Glider, but it's certainly been covering new ground as a very different mode of transport for Belfast.