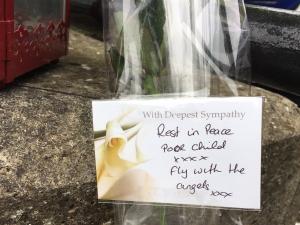 Tributes left at the scene after Monday's tragedy
By Ed Carty, Press Association
A woman charged with murdering her toddler son told detectives "it was not me, it was the power", a court has heard.
Maha Al Adheem, 42, appeared briefly before the Dublin District Court over the death of three-year-old Omar Omran.
The child was found dead on Monday night in the Riverside apartment complex in Kimmage, Dublin, where he lived with his mother.
Garda Sergeant Brendan O'Halloran told the court Ms Al Adheem was arrested and charged with murder on Thursday.
He told the court that when charged she replied: "Yes, it was my knife. Yes it was my hand.
"It was not me, it was the power."
Judge Michael Walsh remanded Ms Al Adheem in custody for one week to appear again before the Dublin District Court.
An application for legal aid was made by solicitor Richard Young.
Ms Al Adheem appeared in court wearing a purple top and glasses.
She did not speak during the brief hearing.
Toddler Omar was found dead in the apartment at about 7pm on Monday.
Ms Al Adheem was initially detained for questioning on Wednesday morning after being treated in hospital for injuries described as serious.