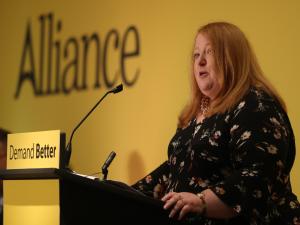 by Q Radio News
Alliance party leader Naomi Long has announced she's standing in next month's European election.
The Alliance Leader officially submitted her nomination papers for the May 23rd poll this morning.
She says her aim is to bring people together and to send the strongest message possible that a People's Vote is the best way to resolve the current impasse around Brexit.
"I am passionate about the EU and the enormous benefits it has brought not only to us in Northern Ireland, but also right across these islands and more widely across Europe over many decades. Maintaining stability, co-operation and collaboration at that level is absolutely vital to our future,2 she said.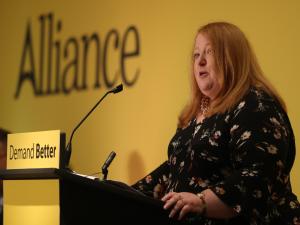 (Alliance leader Naomi Long)
"The chaos and uncertainty created by Brexit has impacted every aspect of life here, including our economy, our community and our political situation. People have felt badly let down in the 2016 Referendum and since, and Parliament has now reached an impasse.

"The best and potentially only way through this crisis is to put Brexit back to the people. Alliance supports a People's Vote, crucially including the option to Remain. A vote for Alliance in this election is the best way to send a clear message we want that new referendum.

"We have been clear from the outset Brexit is not and must not become an orange versus green issue – it affects us all. Alliance is best placed to unite people from all parts of our community together to resolve this divisive issue.
"It is vitally important we have a strong liberal, cross-community and pro-European voice representing people for the lifetime of this European Parliament, however long that might be. Alliance is that voice and so I am asking people for their support to represent them in Europe at this crucial time."