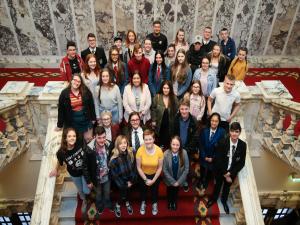 Belfast Youth Forum alongside Lord Mayor, Deirdre Hargey
by Gráinne Connolly
Forty young people, between the ages of 13 and 18 have been newly appointed to this year's Belfast Youth Forum.
They've started working this week, advising and challenging local politicians and organising campaigns for social justice and children's rights.
They're also planning a number of events which will promote the voices of youths in the city.
Lord Mayor, Deirdre Hargey said, "Our Youth Forum do incredible work for Belfast; providing a strong voice for young people, challenging decision makers and taking action on important rights based issues like poverty and mental health.
"They are a shining example of how powerful, meaningful participation with young people can be, and of the importance of citizens asserting their rights.
"I wish the new young people all the best for their term ahead and look forward to working with them on their future campaigns."
"While the Youth Forum has many new members, a few have served previously and chosen to return because they enjoy it so much. Their first official meeting takes place on Monday, 10 September."
Among the returning members is 17 year old, Niamh Mallaghan, who said: "I've been a member of the Belfast Youth Forum for four years. I am coming back for another term because I have had such an incredible time and I have gained so many great experiences and friends that I would not have found anywhere else.
"I know that in the new Forum there will be many more experiences and lessons from which I can learn and grow to become the best young person I can.
"It's hard work but fun, it's given me an insight into how local government works and a tremendous sense of achievement knowing that we have helped make a difference."