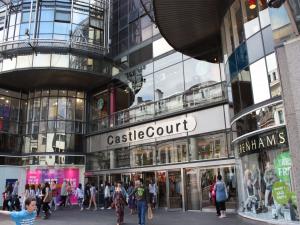 Castlecourt shopping centre in Belfast
by Q Radio News
Retail groups in Northern Ireland are calling for the Stormont Executive to announce an opening date for shopping centres.
All non-essential shops have been given the go ahead to open again on Friday 12th June, however, indoor shopping centres are exempt from that.
A panel including Retail NI, Belfast Chamber of Trade and Commerce and Northern Ireland Retail Consortium, addressed Stormont's Economy committee.
The retail sector has been one of the worst hit by the crisis, with all non-essential shops forced to close in March.
Belfast Chamber Chief Executive Simon Hamilton says there is now more certainty for some shop owners, around when they can reopen.
However, he says clearer guidance must be issued for those in shopping centres, with some already open to allow for essential businesses to operate.
He said, "Whilst all of non-essential retail can reopen from this Friday, an exemption still exists for indoor shopping centres.
"We would ask that the Executive sets a date for indoor shopping centres to open as soon as possible.
"Many are already open because they are home to essential retailers with more than 60% of stores in one centre.
"They are able to maintain a safe environment for staff and customers and should be permitted to open as well".
Meanwhile, Aodhan Connolly the Director of NI Retail Consortium reiterated calls for an opening date for shopping centres.
He said, "We really do need that final piece of the retail jigsaw to be opened as soon as possible or at least a date for allowing it to be opening."
Mr Connolly also called for "joined-up approach" to adapt town centres and cities for the aftermath of covid-19, in order to prevent "friction" between customers and queuing outside shops and passing pedestrians.
Glyn Roberts, the director of Retail NI also called for a "comprehensive plan" to be developed to ensure retailers, employers and consumers are equipped with the "right health and safety guidance".
He says he has been working with the Department of Communities and other stakeholders on the matter.
"Unless consumers have the confidence to go back to the high street, we're going to have ongoing problems," he says.
Mr Roberts also says many members have raised childcare difficulties as a challenge for staff during the reopening process.
"As the retail reopens and the economy as a whole it is vital that the private sector Childcare sector is able to safely reopen to support staff and their families in the return to work.
"We have consistently hearing feedback from our members that the lack of childcare provision is a huge issue and causing immense challenges for working families".