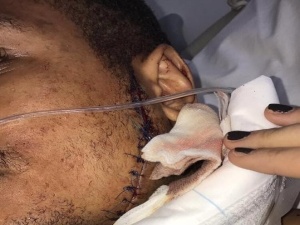 By David Hunter
The brother of an Amateur Boxer from Belfast say's he's on the mend after being slashed in the face over the weekend.
Caoimhin Hynes was attacked by a group of men in Belfast in the early hours of Monday morning.
The 20 year old was seen as a rising star from Holy Trinity Boxing Club in the North of the city.
His brother, Eoghan, has taken to Facebook to say Caoimhin is recovering well, and his latest surgery was a success.
He said "His surgery was successful, lucky enough missed the arteries and just caught a nerve but he is on the mend and recovering now.
"Please give us some time to rest and come to terms with that's happened."
Eoghan went on to thank well wishers by saying "Thank you so much for all the messages,calls and visits, we appreciate it so much, trust me you all don't understand how much it means.
"Please give Caoimhin time to recover not only physically but mentally. The support has been from all around the world it's amazing how we can all come together but we'll stay strong and get justice."
Irish Boxing stars Katie Taylor and Paddy Barnes are among those to have offered support and well wishes.
@caoimhinhynes29 get well soon Caoimhin.

— Katie Taylor (@KatieTaylor) May 1, 2017
@cohcfc @caoimhinhynes29 Disgraceful and disgusting. Hope he'll be back to doing what he does best soon

— Carl Frampton MBE (@RealCFrampton) May 1, 2017
Only just seen this, what sort of cowards could do this. When they catch them, they should all be made do 3rds with Caoimhin #dirtbags https://t.co/FV4lxiodBL

— Barry McGuigan (@ClonesCyclone) May 1, 2017