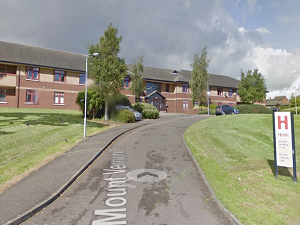 Q Newsdesk
A number of pensioners have escaped injury after a fire at a residential home in North Belfast.
It happened at Mount Vernon Court just before 10 o'clock last night.
Firefighters rescued a woman and two men, all aged in their 60's and 70's.
A man in his 80's was also treated at the scene by paramedics.
Chris Fee from the Fire and Rescue Service said other residents successfully evacuated after hearing the smoke alarm:
A Northern Ireland Fire & Rescue Service (NIFRS) Spokesperson said:
"NIFRS responded to a call at 9.54pm on 2 January 2019 for a report of a fire in a flat at Mount Vernon Court sheltered dwellings, Belfast."
"5 Fire Appliances from Whitla, Lisburn, Westland and Central Fire Stations attended the incident."
"Firefighters rescued a woman in her 70s and 2 men in their 60s and 70s from the property – they were uninjured.
"A man in his 80s was led to safety by Firefighters and treated at the scene by Ambulance personnel for smoke inhalation but did not attend hospital."
"Two other residents from the floor where the fire occurred were out of the property prior to arrival of Fire Crews."
"Firefighters wearing breathing apparatus extinguished the fire in the flat and ventilated the property.
"Sounding smoke alarms alerted the occupants to the fire."
"The cause of the fire was accidental."
"The incident was dealt with at 11.59pm."