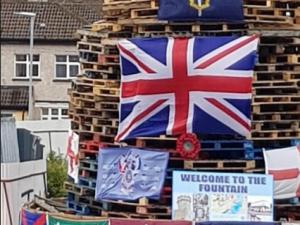 By Q Radio News
Poppy wreaths which were stolen from the War Memorial in Derry-Londonderry in August and burned on the controversial Bogside bonfire have been remade, rededicated and are set to be relaid this morning in the city during a special service.
The three poppy wreaths honouring those who died in World War I were stolen from the Cenotaph and placed on the controversial August 15th bonfire, alongside flags and boards bearing the names of murdered police and prison officers.
Police investigated the incident as a hate crime.
DUP Councillor David Ramsey said the wreaths will be replaced today to rehonour those lost.