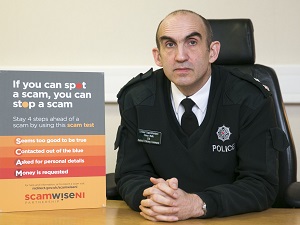 Q Radio news
Police in Northern Ireland have issued a warning for people to remain vigilant after a woman in her seventies was scammed out of close to £45,000.

The Craigavon woman reported attempting to access her mail on the week starting January 7th, but was repeatedly told her password was incorrect.

Chief Superintendent Simon Walls said: "On Tuesday, 8th January the victim contacted their telecoms provider in a bid to resolve the issue and, after a short time, she could access her email.
"Not long afterwards, however, the victim was phoned by a man claiming to represent the same telecoms and internet provider.
"He asked her to complete a number of things on the computer, claiming it was all part of checks he was conducting.

"Among the instructions the fraudster gave the woman was to log on to her banking app. It appears software - TeamViewer - was subsequently installed giving the fraudster remote access to the victim's computer, her bank account and the ability to transfer close to £45,000 from her account."

The woman is said to have lost most of her savings through the scam and is extremely distressed.

"Unfortunately, it's not the only report of fraud we had last week" continued C.S Walls.

"On Friday, 11th January we received a further 11 reports of fraud, including reports of people being targeted by scammers claiming to represent HMRC. While the majority of people did not fall victim to scammers, there was one person who did.

"A second woman was contacted on social media, via Facebook. She replied to a message which she believed was genuine and was from someone she knew informing her she'd won a competition. Replying, she was re-directed to a site which advised she would have to transfer £2,000 before she could get her winnings. As a result of the communication, she unknowingly passed her personal details to the scammer and lost £2,000."

Families are now being asked to keep an eye on their loved ones, especially older members of the family.
Official advice from police is to always err on the side of caution with any text, call, email or letter asking for payment or personal details.
If you are at all suspicious about a call you receive, hang up and phone the organisation the person is purporting to represent to check their authenticity.
Ideally, make the call from another telephone so you can be sure the original caller has not remained on the line.

The PSNI also say that guarding your personal and banking details is essential. Never disclose them to any unauthorised person or allow anyone access to them via your computer.