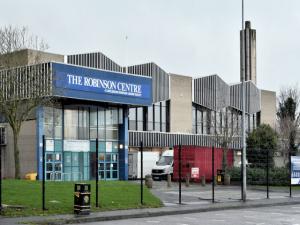 by Gráinne Connolly
People will be given the chance to have their say on the re-naming of a leisure facility at the former Robinson Centre in East Belfast.
The site on the Montgomery Road in Castlereagh is currently undergoing a £20 million pound regeneration.
In the 1980's, it was named after former DUP leader and first minister Peter Robinson, who was served on Castlereagh Borough Council.
Initially, Belfast City Council was planning on keeping the building's name.
However, according to a council policy adopted in 2008, leisure centre aren't supposed to be named after individuals unless they've been dead for five years, have lived in the area where the facility is based, and has the family's permission.
A motion brought by Sinn Féin Councillor Charlene O'Hara passed at a Belfast City Council meeting last night.
Ms O'Hara said, "I am pleased that my motion on the naming of the leisure facility at the former Robinson Centre site has been passed at the People and Community Committee.
"The Council will now undertake a city wide consultation on the name to allow rate payers to have their say on the name of the new facility."