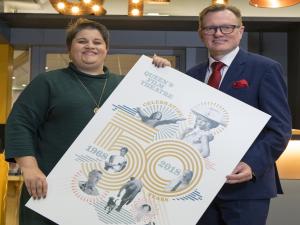 Q Radio News
Queen's Film Theatre in Belfast has announced it's to host a month-long series of films and events to celebrate its golden year.
To mark its fiftieth birthday in October, QFT will host a range of events including brand new films and old classics.
The independent cinema based at Queen's University Belfast plans to show off its newly refurbished screens after a £350,000 investment.
The month-long celebrations, funded by the National Lottery's Heritage Lottery Fund & British Film Institute, will also see over thirty special events take place.
Highlights include in-depth Q&As with Mark Kermode, Jim Sheridan and the cast of hit TV show 'Derry Girls'.
Organisers using #QFT50 will kick off events on October 5th with the opening of a special exhibition showcasing a range of artefacts, photographs and memorabilia from the past 50 years.
President and Vice-Chancellor of Queens University Belfast, Professor Ian Greer said: "As we begin this month-long programme of events, I am excited and honoured to lead the celebrations which mark 50 years of QFT.
"At Queen's University Belfast, we are privileged to have such a unique cultural venue on campus, with vast experience of bringing a high quality film experience to Belfast audiences.
"As well as being a social hub for our students and the wider community in Northern Ireland, QFT brings many positive economic, cultural and social benefits to the local economy."
Joan Parsons, Head of QFT Belfast said: "We are so excited to be celebrating the golden year of Queen's Film Theatre with an amazing programme of events that takes a trip down memory lane and also looks to the future of film.
"The QFT is deeply embedded in the fabric of student life at Queen's but it has also been an important part of culture in Belfast itself and I am really excited to be able to present this programme of events and welcome old friends and new faces to the QFT in October.
You can see more about the festival HERE: